Details
Details
A lot of young girls have become the fan of the Brite bomber from the game Fortnite. This game has quickly gained huge popularity and this particular character is immensely famous with his great persona and quirky dressing style. It's her costume that will surely make you attracted towards her and that's why a lot of young girls have become fanatic about this costume. If your little girl is also one of them then we at halloweencostumeforkids have a great collection for you. Read on as in this post I will be telling you the details of our deliverables to give you a better idea before you make the purchase. So, let's get started.
The Brite Bomber costume is a Rare female skin that is unique and flashy. First came out during Fortnite Season 2, this costume is wearing a Blue skintight outfit, a White section on her chest with a unicorn and rainbow. She also has on Purple goggles and gloves along with Pink hair.Official Description: The future looks brigh.This costume is part of the Sunshine & Rainbows Set and has a total of five cosmetic items. Also available is the Brite Gunner Outfit (Epic), Rainbow Smash Pickaxe (Epic), Brite Bag Back Bling (Epic) and the Rainbow Rider Glider (Rare).The Brite Bomber is a female-only outfit that features a tight blue skinsuit with a white body and a unicorn design painted on the front. While using this outfit, the player will have a bright pink hair with a purple sunglasses/ goggles on.
How to Diy Your Fortnite Brite Bomber Costume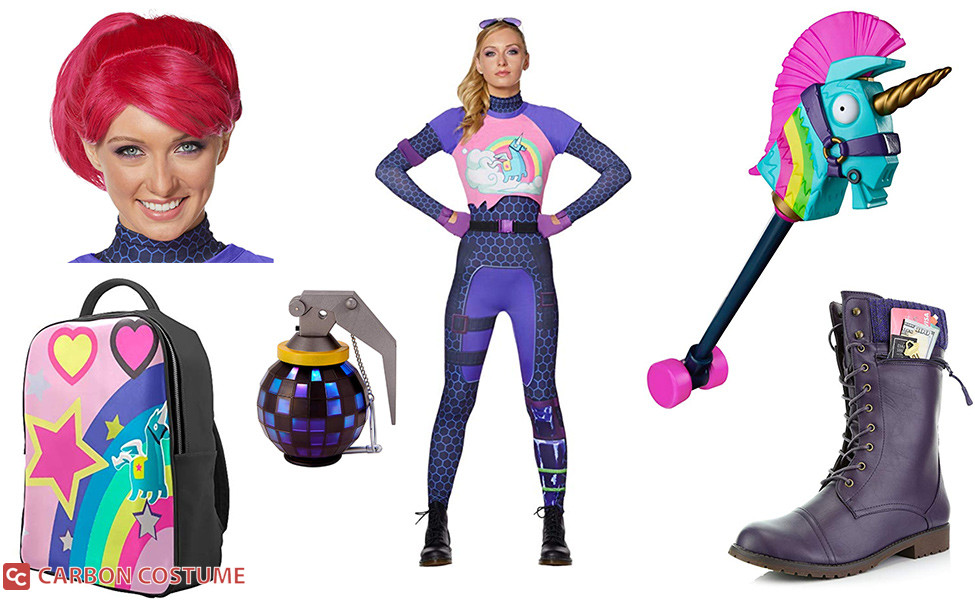 Brite Bomber Costume




Rainbow Smash Pickaxe




Brite Bomber Bag




Brite Bomber Wig




Boogie Bomb




Shin Guard



Hair:
The Brite Bomber skin has bright pink hair in a stylish ponytail. You can either dye your own hair pink, or you can use a bright pink wig.You can also buy hair elastics and hair scrunchies for ponytails online from retail websites and accessories shops.
Outfit:
The Brite Bomber outfit consists of a skintight blue bodysuit with a lighter blue honeycomb pattern on it and a white front piece which has a blue unicorn standing under a rainbow printed on it.
Accessories:
The Brite Bomber costume comes with numerous accessories. This includes purple boots and matching gloves, a blue belt with a purple buckle, a white digital wristband with a glowing turquoise screen, purple goggles and blue strap-on leg pieces.
Extra Add-Ons:
On Fortnite you can buy extra accessories for your character as part of the Brite Bomber costume. One is a Brite Bag, which resembles a fabric lunchbox with the same blue unicorn and rainbow image from the costume suit printed on it.Another add-on accessory is the Rainbow Smash, a funny-looking weapon resembling a pinata. It is a paper mache blue unicorn head on a stick with rainbows printed on the sides.
Brite Bomber of Costume: The Best Fancy Dress Costume For Your Daughter!
A child's fantasy can surely be fulfilled when he/she gets to be the person she looks up to even if for a single day. The Brite Bomber definitely creates the same impression for your daughter as Superman or Batman can do for a young boy. This dress can be a great Halloween costume idea. Halloween is perhaps the best time to try something quirky and fun and what can be more fun that surprising your friends with the costume of your favorite gamin character? The Fortnite Brite bomber costume can do that! Below I am giving you the details of this costume for a better understanding.
The costume is made of Polyester which makes it quite comfortable for your little daughter to wear it all day around.
It's basically a jumpsuit with the zipper on the back. This makes it easy to get in and out from the dress.
It has a cropped t-shirt on top of the jumpsuit which makes the costume resemble even more with the actual suit in the game.
To make it look even more realistic, the costume has the exact same graphics printed that you can see in the game. Needless to say, people will be taken aback by your daughter's appearance.
It also comes with the pair gloves to make the look complete just like the real one.
You will also get the purple gloves and the boots which go perfectly with the costume making it a stunner of a Hollywood costume.
So what are you waiting for? Visit our platform today and get your daughter this amazing Brite Bomber costume to rock any fancy dress or Halloween party. Visit today before the stock runs out!
Reviews
Tags
size chart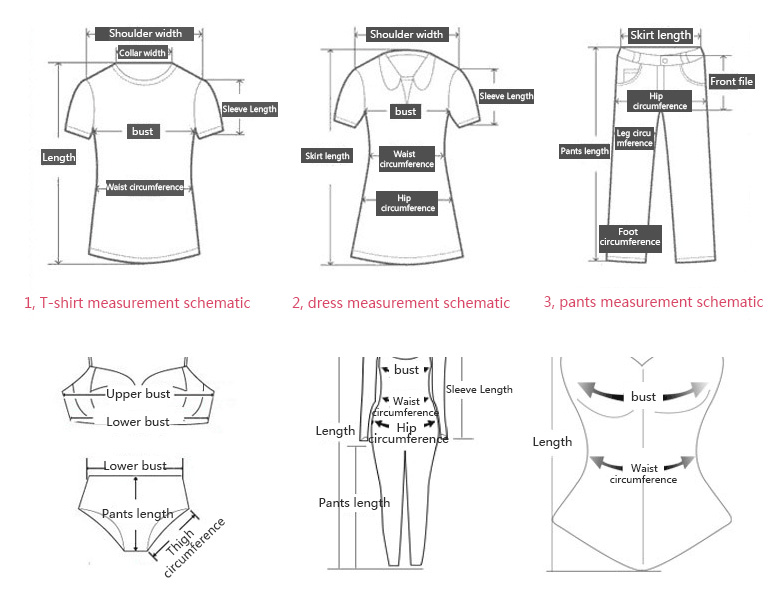 Other Products
You may also be interested in the following product(s)