Details
Details
There will be hardly a teenager found who was not a fan of the teen titans. These young superheroes fascinated every teenage kid in the 90s and 2000s. Even today they are a huge hit and their costumes are still famous options for Halloween or fancy dress parties. From Robin to Cyborg, Raven to Starfire, every single costume is still a hit for Halloween. But among the ladies, the costume of Raven has always intrigued them and a lot of girls wants to try this one out for the Halloween bash. Well, it's time for you to fulfill that desire as we at halloweencostumeforkids have come up with the most unique looking teen titans costume, the adult Raven costume. Read on as I will be listing all the specifications that you need to know before placing the order. So, let's get started.
who is raven?
Raven is a fictional superheroine appearing in American comic books published by DC Comics. The character first appeared in a special insert in DC Comics Presents #26 (October 1980), and was created by writer Marv Wolfman and artist George Pérez.
How to diy your Raven Costume yourself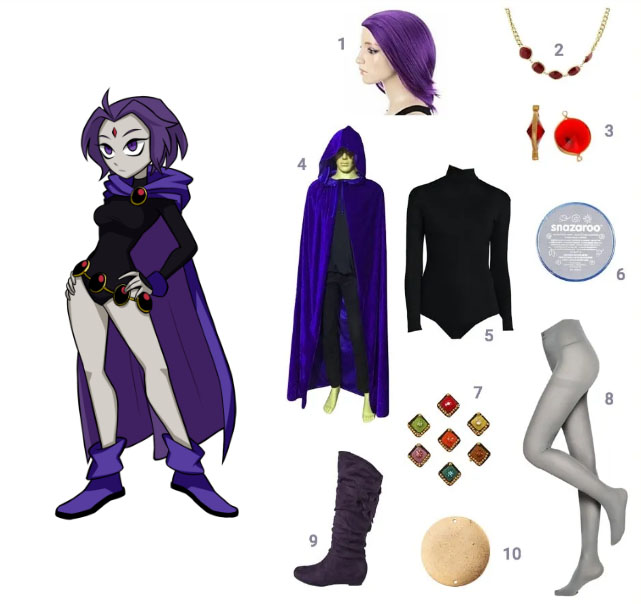 Purple Raven Wig




5 Stones Chain Bib Statement Necklace




Antiqued Gold Toned Rivoli Pendant Link




Purple Hooded Cloak




Turtleneck Long Sleeve Leotard




Light Grey Face Paint




Crystal Bindi Pack




80 Denier Semi Opaque Tights




Mid-Calf Pocket Boot




Antiqued Gold Plated Pendant Link
Teen Titan Costume: Bring Home The Most Intriguing One Ever This Halloween!
If you have been a fan of the Teen Titans, then you must know that Raven is quite different from rest of the Titans. She is a bit introvert but that creates all the more intriguing mystery around her. She has incredible power however, if she loses her temper then those very power can prove detrimental for everyone. Although, all these traits make her a unique and standout character. This is exactly she is the preference of a lot of girls for Halloween. This uniqueness is also prevalent in her costume which is also different from every other Teen Titan costume. So, if you want to turn heads in this Halloween, this costume can surely do the trick for you. Needless to say, it can also bring some treats as well along the way. This costume has an appeal of its own which makes it a first choice for the Halloween party. Let's look at the specifications of the costume.
Costume Details and Accessories forTeen Titans raven costume
The Teen Titans Raven costume is a stunning representation of the iconic superhero character, Raven. This costume features a dark and mysterious aesthetic, reflecting Raven's mystic powers and enigmatic personality. It typically consists of a black leotard jumpsuit with intricate purple detailing, symbolizing her affiliation with magic and shadows. Additionally, the costume includes a detachable cloak or cape, which further emphasizes Raven's mystical abilities.
To complete the Teen Titans Raven costume, various accessories can be added. These may include arm-length gloves in black or purple, representing her mastery over dark energy. Additionally, a belt with Raven's iconic gem-shaped buckle can be worn to accentuate the costume's overall look. Other optional accessories might include a purple hood or a wig styled in Raven's signature hairstyle.
Overall, the Teen Titans Raven costume captures the essence of this beloved character, combining elements of darkness, mystery, and magical prowess. It is an ideal choice for fans who want to embody Raven's unique persona and fight alongside
So what are you waiting for? Just visit us at halloweencostumeforkids.com and get this unique Raven cosplay yours for the Halloween bash. Visit today before the stock runs out!
Reviews
Tags
size chart