Details
Details
One of the most admired and a popular Marvel comic character of all times is undeniably the Spiderman. This fictional Marvel superhero was created by Stan Lee and is counted among the most commercially successful ones. This superhero has long been entertaining a wider spectrum of audience across the world, appearing in innumerable forms of media, including several animated and television series, newspaper comic strips and in film series. The latest one is the Spiderman far from Home and it too did not fail to carry on the legacy of massive popularity. Your little one surely has already seen the film and trust us, he will jump for joy if you present him with a Spiderman far from home suit for Kids this time. He will be a huge success and this unique fashion will not go unappreciated at the Halloween party. Availing this suit from a reputed e-store, like halloweencostumesforkids.com where such unique costumes are designed, will be a good decision.
What Is Spiderman Far From Home?
Spider-Man: Far From Home is a 2019 American superhero film based on the Marvel Comics character Spider-Man, co-produced by Columbia Pictures and Marvel Studios, and distributed by Sony Pictures Releasing. It is the sequel to Spider-Man: Homecoming (2017) and the 23rd film in the Marvel Cinematic Universe (MCU). The film was directed by Jon Watts, and stars Tom Holland as Peter Parker / Spider-Man. Parker is recruited by Nick Fury (Jackson) and Mysterio (Gyllenhaal) to face the Elementals while he is on a school trip to Europe.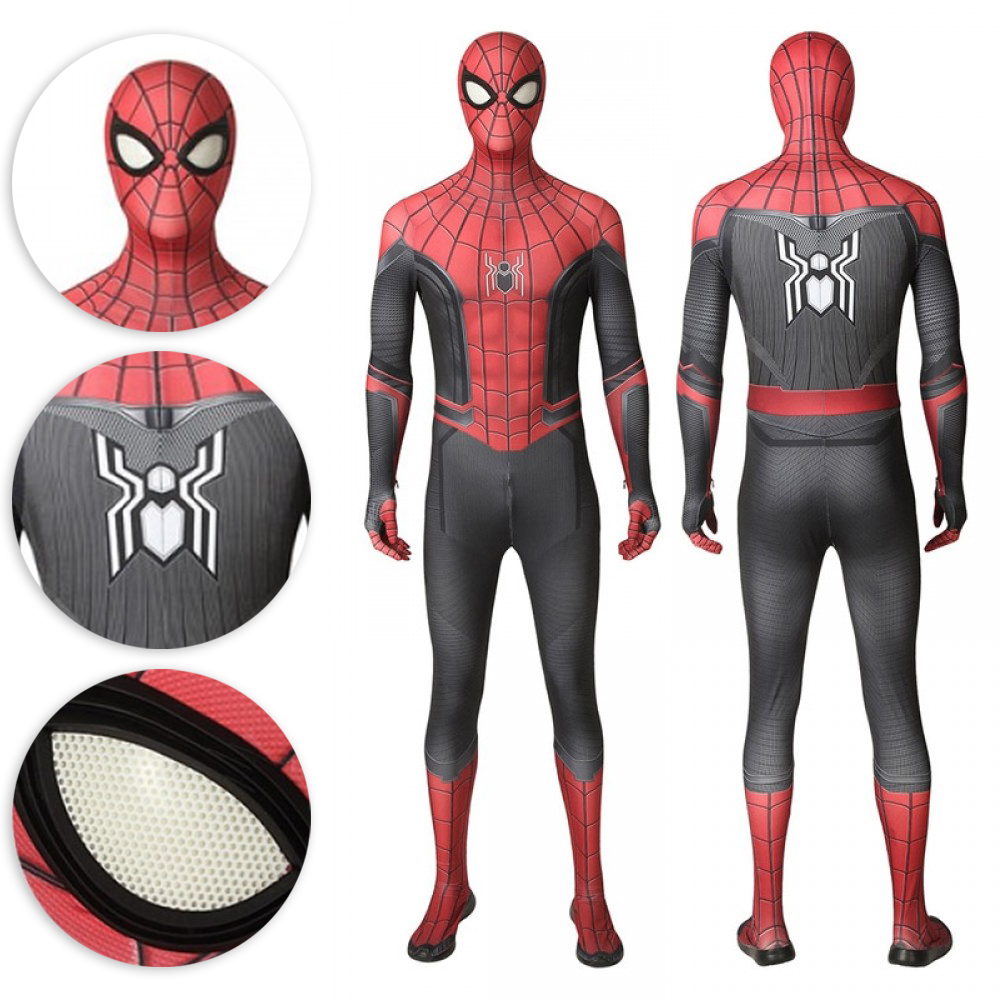 Let us help you get familiar with Spiderman far from home costume that you will be paying for. The details provided here will help you make a quality purchasing decision.
These marvel costumes for kids include items like a suit with attached boot tops and a mask. The cosplay suit is made of 100% polyester fabric and the material used ensures maximum possible comfort, during this time of the year. The costume comes installed appropriately with fiberfill or muscle pads that are made of 100% polyurethane foam. This is done to help your child appear a little bit muscular in this costume or else it might not look that attractive. It will also not be difficult to get inside the suit as a hook and loop fastener strip is stitched at the back of it, in the central position. His little hands can easily reach the area. You do not require spending money on shoes or wondering which pair of shoe will go along appropriately with the dress. The boot tops are made of foam that comes attached to the suit. The attached boot tops feature elastic straps under the foot so that it fits around the ankle properly, without any discomfort.
Why is Spiderman far from home suit red and black?
After officially becoming Spider-Man, S.H.I.E.L.D. gave Miles a new red and black costume because his makeshift costume was considered to be in "Bad Taste."The suit bears printed spider web graphics all around the attire. It is available in black and red color. This unique styling will help him stand out in the crowd of many and give him a competitive edge over other little spider-men (traditional spider-men costumes are available in blue and red color that many opt for.
Why does Spiderman have a new suit in far from home?
He's wearing the Stark suit as he swings through Manhattan, and he will receive the Stealth Suit from Nick Fury so he can go on missions in Europe and not tip off to his friends what his secret identity might be.
The mask will cover the entire head but do not worry about the visibility issue. Mesh-covered eye openings ensure the vision is not restricted completely. It comes designed with a hook and loop fastener at back. This spiderman suit is officially licensed.
It has been and also will be one of the best superhero costumes for kids always. A spiderman does not require playing hard for getting attention at any themed dress event and parties.
Reviews
Tags
size chart