Details
Details
Raven is a character in Fortnite: Save the World. It is a well-known character to all the lovers of this online video game. This particular online game hit the market and was available to the players in 2017. From then on, the Raven character has been enjoying a huge fan following all over the world. It is one of the rarest and much-admired skins in Fortnite. This coming 31st October, almost every child will knock the door, and every adult hit the Halloween party dressed weirdly. All these years, you must have tried nearly every possible Superhero, Supervillain, and Disney characters for attending the Halloween events. Why don't you try something else now to fashion your kid for a lasting impression on 31st October this year? If your son is very fond of online video games, then buying him Raven fortnite costume for Kids will be best. At halloweencostumeforkids.com you will get this type of raven Fortnite halloween outfit and others that can make your kid stand out in the crowd of many at any themed dress event.
With the help of our Raven costume guide, you can become the brooding master of the dark skies! Fortnite is a cooperative survival game that became wildly popular with the release of Fortnite: Battle Royale, a game in which up to 100 players fight to be the last person standing. Players can dress their characters up in different skins for gameplay. The Raven skin, part of a set called Nevermore, has gained massive popularity for its mysterious and haunting look.Raven is a dark, menacing skin in Fortnite. A hood obscures his face and only reveals glowing purple eyes. His uniform is made of layers of armor, purple pants, knee-high armored boots, and a collar of feathers that give him an even more bird-like quality. The Raven Skin features a goth like look which is highlighted with a jet Black rugged outfit along with Purple and Blue accents. Featuring feathers, one of the standout features of the Raven outfit is the dark hood which shows its eyes glaring. One of the more popular male skins in Fortnite, it also comes with the Iron Cage Back Bling which is a Legendary backpack. The female version of this skin is the Ravage Outfit.Raven is one of the most popular male outfits for the game Fortnite Battle Royale. This legendary outfit is a part of the Nevermore set.The Raven is a cool jet-black leather outfit with ragged feather-like details that resembles that of a raven. What makes this outfit popular is the dark hood that covers the entire face in darkness and glowing purple eyes. The outfit also comes with the ghostly hollow iron cage backpack as a legendary back bling.Official Description: Brooding master of dark skies.
Black Hood
Purple Glowing LEDs for Eyes
Purple Feather
Fortnite Raven Outfit
Pick Axe
Black Leather Boots
How to Dress Like Raven from Fortnite Battle Royale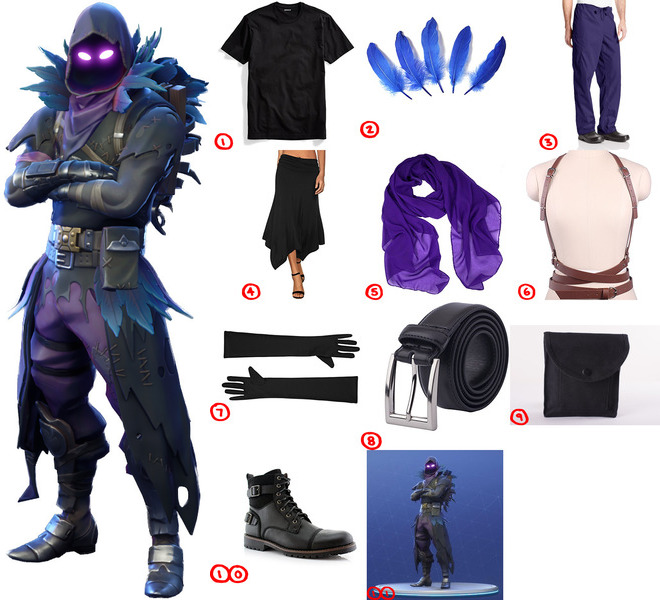 | | | |
| --- | --- | --- |
| 1 | Black T-shirt | Get a plain black T-shirt to wear. However, trim the rim of your sleeves a bit with scissors to create torn effect. |
| 2 | Blue Feather | Attach blue feathers prop together with hot glue and sew or glue (with fabric glue) to the neck and the bottom of the shirt as seen in the photo. |
| 3 | Purple Pants | Match your top with a pair of purple pants. |
| 4 | Long Black Skirt | Cut the front and the back of the skirt and trim it with scissors to get a torn effect (like in the photo), and wear it on top of your pants. |
| 5 | Purple Head Scarf | Wrap a purple scarf around your head. |
| 6 | Brown Harness | Wear harness on top of your T-shirt. |
| 7 | Long Black Gloves | Get a pair of long black gloves to wear. |
| 8 | Black Leather Belt | Look for a black leather belt. |
| 9 | Black Belt Pouch | Attach the pouch to your belt. |
| 10 | Black Boots | Pair up your outfit with a pair of black boots. |
| 11 | Made to Order costume | Slightly expensive but accurate custom made costume |
| 12 | Full Costume | Full costume available in various sizes |
Hood & Glowing Eyes:
Raven's foreboding look begins with the use of a dark hood which obscured his face and only allows for his purple glowing eyes to pierce through.
You can replicate this look by creating or purchasing a large black hood and using a black baclava underneath to cover your face. Get some purple LED lights designed to be used with masks to get Raven's signature glowing eyes.
Outfit:
Because of the intricate nature of the Raven skin, it'll probably be easier to buy a prefabricated version at a costume shop or online.
But you'll still want to dress it up with a few extra purple feathers, which you can find at a craft store.
Accessories:
For props, look into a pickaxe (it's something you can pick up for the skin while you're playing the game) and a toy rifle.
Strap on a pair of black combat boots and boom—you're Raven.
The article here will help the readers know about the costume a bit in more detail. The costume description and the image posted here will help you form a better idea about what you will be paying for.
Raven Fortnite Costume Details
The raven fortnite costume for kids is one of the most popular Halloween outfits available these days. The costume package includes a one-piece jumpsuit and a mask. The entire costume is made using polyester fabric. It ensures that your kid does not feel any discomfort in this jumpsuit, no matter how many hours he keeps on wearing it. The fabric keeps stick to the body, and it fits any body shape quite appropriately. It allows the free circulation of air, so the costume will not cause any discomfort ever during this autumn season.
The jumpsuit comes designed with beautiful and eye-catchy design patterns. A diverse type of pattern made in different colors makes the costume look quite appealing and unique. Around the waist portion, the designs are done in a way to give it the impression of a belt. It would feel as if the user is wearing a belt around the waist. The costume is decorated using different dark colors like purple, navy blue, and royal blue (leaf-like designs around the waist, under the belt pattern).
This raven Fortnite cosplay costume package also includes a mask also will not cause any discomfort because of the fabric type. The eye portion looks very spooky. The mesh eye coverings will not completely obstruct the vision, which is a plus point about this full-face mask.
Now, you have detailed information about the costume we are offering. Please note that the size chart provided along should be consulted before placing your order. An ill-fitted jumpsuit will ruin the overall getup. This Halloween, get ready to witness a mind-blowing entry of your son at the party.
Reviews
Tags
size chart