Details
Details
The Rabbit Raider is a male Easter event costume for the game Fortnite Battle Royale. If you like to see yourself in this costume, you can buy it. If you like your kids to wear them, then you can gift one. Your kids will surely make people 'WOW' this Halloween day. This outfit is released to commemorate Easter and is the male version of the Bunny Brawler Outfit.
This excellent male Rabbit Raider costume features a special pink hoodie suit with bunny ears. It comes complete with pink gloves and pink bunny sandals. You will surely love it. The outfit also comes with pink colored egg grenades. Also, you will get a pastel blue bunny-modified hockey mask. You can make your Halloween day memorable with this Rabbit Raider costume.
The Rabbit Raider costume is an epic rarity skin costume which first appeared on 1st April 2018 in Fortnite, to celebrate Easter. Now, it has become an iconic skin; the bunny raider is mainly one of the rarer skins in-game. It has only been in the store 5-times as of the time of writing. This rabbit costume is an all in one jumpsuit, which is guaranteed to keep you warm on cold Halloween evening in the time you are out trick-or-treating.
Uniquely, the Rabbit Raider costume is one of the very few outfits which also come with matching back bling as intended in-game – with the Hard Boiled Back Bling also available for you.
How to diy your fortnite Rabbit Raider Costume yourself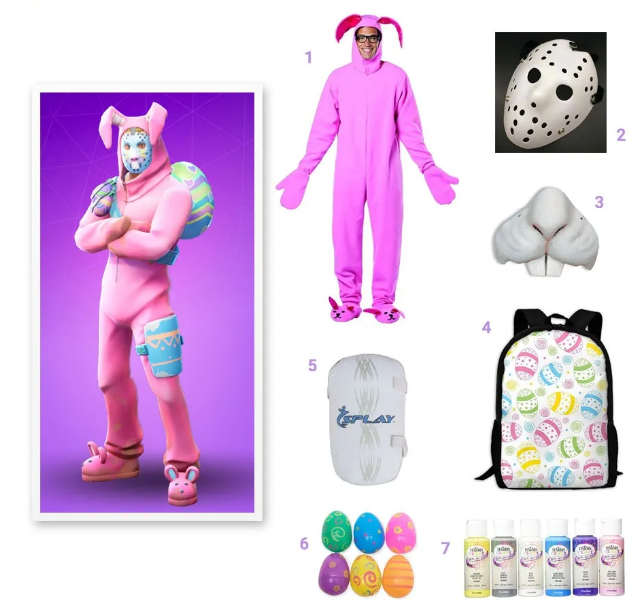 | | | |
| --- | --- | --- |
| 1 | Pink Bunny Costume for Adults | Get a pink full-body rabbit costume/pajama to wear. This one comes with a pair of pink rabbit shoes as well. |
| 2 | Gmasking Horror Hockey Mask (White) | Rabbit Raider wears a white hockey mask with pastel markings painted on. |
| 3 | Easter Bunny Rabbit Nose Animal Mini Mask | Attach it on your Rabbit Nose only. |
| 4 | Anzone Cat Space Capsule Carrier Backpack, | Wear a light black belt across you body. |
| 5 | Thigh Pad | Attach it on your left leg only. |
| 6 | Fabric Backpack with Easter Egg Pattern | You can repaint the backpack as well with the Acrylic color. |
| 7 | Acrylic Color Set | Get a set of Acrylic color to repaint your items. |
| | | |
Rabbit Raider Fortnite cosplay
The pink bunny Rabbit Raider Fortnite cosplay is the focal point of this costume. While you could try to sew one up yourself, likewise, pink bunny suits are readily available on different online shopping sites, and one of the best is halloweencostumeforkids.com. Grab yourself a pink bunny Fortnite cosplay, and you are well on your way to putting together an epic fortnite costume.
You will be scary cute on Halloween day this year when you wear this officially licensed Rabbit Raider cosplay. The modified hockey mask from the Pastel Patrol set features a pink bunny-shaped nose, and buck teeth will give you an excellent look for sure. Plastic molded cover with high-quality elastic straps is comfortable to wear and can complete any outfit.
Rabbit Raider Halloween outfit
Rabbit Raider Halloween outfit is no doubt best for this Halloween day. This outfit wears a white hockey mask with pastel markings painted on, but some rabbit teeth are attached to the front of the hockey mask. You can buy a similar hockey mask. Also, you can use pastel craft paint to get the right look.
The Rabbit Raider outfit or cosplay is lightly armored. It has only a thigh guard on one leg that is painted up like a pastel Easter egg. We hope you will surely like it. You can put your pastel paints to use to replicate the actual pattern, and you are all set.
Reviews
Tags
size chart