Details
Details
A stealthy ninja, a scurvy pirate, or a straw hat Luffy, we have the right Luffy costume for you. So why not get the look of a powerful anime fighter with this Luffy look. The Luffy cosplay will be a sure win! Treasure yourself dressed up in a Luffy costume, some straw sandals, a straw hat, and a black hair wig. Do not forget the body paint to mimic the noticeable scar Luffy has on his chest, which resembles a giant 'X.'
Who is Luffy?
Monkey D. Luffy, also known as " Straw Hat Luffy" and commonly as "Straw Hat", is the main protagonist of the manga and anime, One Piece. He is the founder and captain of the increasingly infamous and powerful Straw Hat Pirates, as well as one of its top fighters.
How to diy your luffy Costume yourself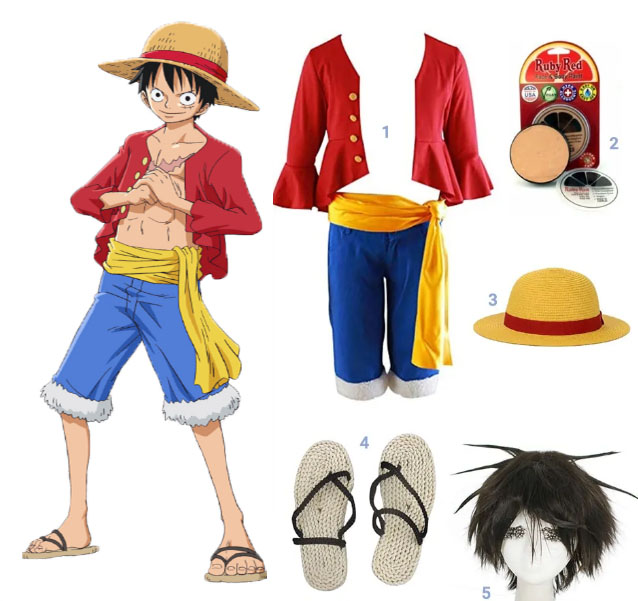 Luffy Costume




Body Paint




Straw Hat




Straw Sandals




Black Hair Wig



Best Luffy Costume this Halloween
Monkey D. Luffy is the main protagonist of the popular manga-turned-anime, One Piece. Luffy's character is a great cosplay for any occasion because 'One Piece' has gained tremendous popularity among anime-watchers over the years.
Why Our Luffy One Piece Costume Is So Different?
Luffy has a very distinctive look. The open red shirt combined with a yellow cloth as a sash and blue cropped pants is unmistakable. Luffy's straw hat is an essential piece to his wardrobe. Invite your crew over to the Halloween bash to have a One Piece viewing party while in costume. Your friends can dress up as the other characters Shanks, Nico Robin, Nami, and Roronoa Zoro.
How Our Luffy Full Cosplay Set Is Different?
Pre Timeskip Full Cosplay Set
If you do not want to bother with choosing and buying every part of the outfit independently, just buy our full cosplay set option. Our cosplay set consists of a high-quality straw hat, the shirt and pants of Luffy are top-notch as well, and a pair of sandals, also known as Dazcos.
The straw hat also has a rope that you can wear on your neck. The quality of the materials of our outfit is probably the best you can find in the market right now.
Post Timeskip Full Cosplay Set
After the two year timeskip, he has opened his to show the X-shaped scar he got during his training. You will also find his pants a bit different, a bit fluffier. There is also a yellow band wrapped around his waist.
The Face Scar
A quality cosplay of Luffy would not be complete if we did not incorporate his face scar into the cosplay. Buy these fake scars, which can turn useful for other Halloween cosplays as well. They are the easiest and simplest way to resemble Luffy's scars.
The Chest X-Scar and the Abs
The Halloween would go to the next level if you add on the Luffy's X-Scar on his chest and abs. For the scars, do not check anywhere other than halloweencostumeforkids.com.
We Make Halloween Costume Buying Easier!
The most important thing that you should consider is the size of the costume. You might find the costume on a bit smaller side. This means that you should check the sizes carefully and go for a size upper than your normal one. The size will fit you perfectly.
I hope our guide will help you choose the perfect Halloween Monkey D Luffy costume. If you have any recommendations for a Monkey D Luffy cosplay, share your comments below.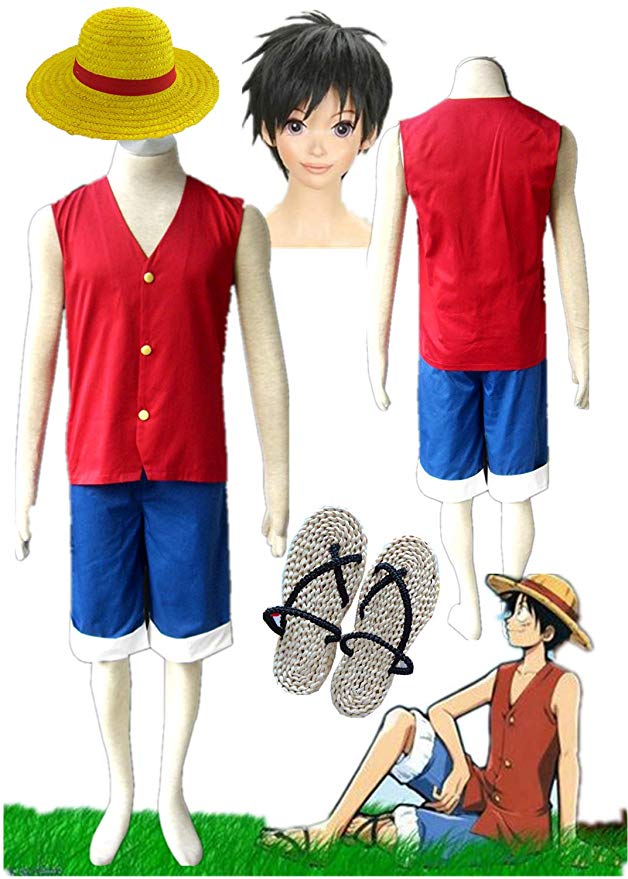 No bones about it, Halloween is really the best, for a lot of reasons. The chance to be anything or anyone, and to see what that anyone is for the people, never ceases to amuse and amaze. It's a delight to see adults walk down the street with tails, wigs, swords, and wings.So if you are looking for the best Halloween costume ideas for this year's festivities, you have come to the right place. Whether you are searching for a costume for Halloween night or trick-or-treating with the kids, HalloweenCostumeForKids' costume selection is larger than any other Halloween store in the industry. We provide an unmatched experience when shopping for your Halloween costumes and accessories.
Reviews
Tags
size chart