Details
Details
Everyone wants to be unique and dashing in Halloween. So, people try to find dresses to look cool and different from others. LED light up stickman costume is an excellent idea for the Halloween night. The light up costume will be visible at the night and it will catch the attention of people around. The whole costume illuminates and gives a dashing look especially at night. It is a fantastic idea to get an LED stickman costume for your kids. You can surprise them and make them happy with the costume. You can also get an LED stickman costume for yourself. HalloweenCostumeForKids has brought you the LED Light up costume with dozens of features. Let's have a look at the key features of our costume.


How to diy your

led stickman costume yourself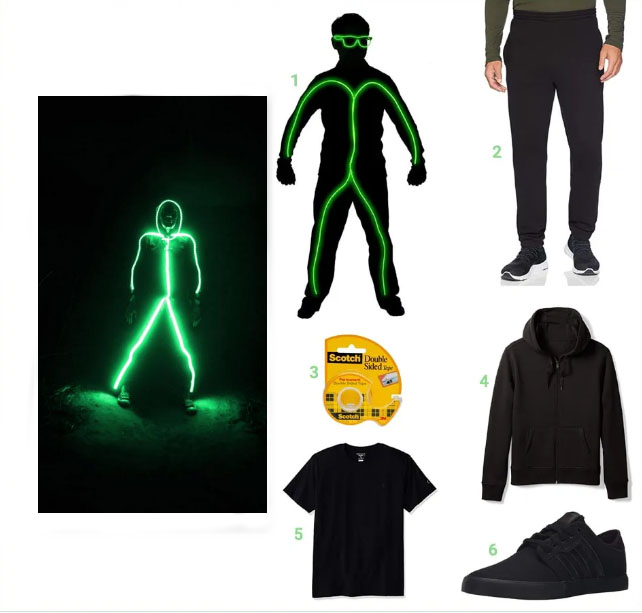 Light up Stick Figure Costume Kit




Fleece Pants




Double-Sided Tape




Black Hooded Sweatshirt




Black T-Shirt




Black Sneakers
Key Features of LED Light Up Stickman Costume
Our costume is prefect of parties and Halloween. You don't need to spend a lot of time in watching and comparing while searching at different websites. We have an excellent costume at a reasonable price. let's discuss the key features of the costume.
Style
The style of costumes is amazing. There are two styles available, one is an LED Stickman costume and the other is a Light up costume. Both are fantastic and appealing. Let's discuss each of them separately.
The LED stickman costume has LED stripe lights that illuminate and look like a stickman. The costume has a hoodie and a pair of trousers. The hoodie has LED stripes around the head, chest and hands. This offers a look of stick head, hands, and chest area. The trouser also has a stripe that look like stick legs. When the whole costume illuminates, it gives a perfect stickman look.
The second is Light up costume that has a hat, gauntlets, coat and pants. The border of the suit has LED lights that illuminate the whole suit. The shoes, gauntlets, and hat will also light up in the dark. They have different designs and patterns. This costume is a little different than LED stickman costume because it has more LED stripes. All fingers and collar have LED stripes. It looks brighter and eye-catching. The hat has a shiny texture that reflects the light of the LED.
At night, both costumes provide an astonishing illuminated appearance to catch the eyes of people. These are suitable for night parties, Halloween and gatherings.
Ready to Wear
Everything is ready to wear; the suit is completely sewn and ready to wear. The stick lights are encased in silicone sleeves. The costume has everything you need. You will need to insert the batteries and you are ready to go. You can wear the suit with comfort, you don't need to do anything. The LED lights are arranged as shown in the images.
Durability
These costumes are not for one night use. We sew everything perfectly so that LEDs will not come out even after using for a few times. You can use it for various functions. Moreover, the LED stripes are inside silicon selves, so you don't need to worry about water spills or anything. These are covered to prevent malfunctions and ensure durability.
Controller
There is a controller to control the different functions of the light. You can control different modes of lighting such as flashing and pulse mode. There are different brightness levels and colors. You can select the appropriate color. The controller resides in a customized pocket and there is a button in your hand to control it.
All Accessories
The suit comes with all accessories that you need. The light up costume has hat, gauntlet, shoes, pants and coat. You will get everything with it. While the LED stickman costume has only a hoodie and a trouser. All LEDs, controller, switch, and extension wire is included in the package. You will only need to get batteries to light the costume.
Comfort
The costume is comfortable. The LED stripe can be bent easily, so you can move with comfort. You can wear the suit all day long. The weight of the lights is unnoticeable, you will only feel the weight of batteries and the controller. You can even wear these in any season. The coat or hoodie is perfect for winter and you can even use them summer.
Cost
Some people don't want to spend a lot on a single costume for one night. They usually wear simple dresses and old costumes in the party. But no worries now, because our costume is very inexpensive and has everything in it. You will not have to buy shoes or gauntlets separately. Everything is in the package. This saves your money; you can easily dress up like a professional at a very reasonable price. We offer our complete LED light up stickman costume for $35 only. The price is reasonable and affordable, and the costume will make your children happy.
Easy to Use
You can easily assemble everything. You just need to connect the wires and insert batteries to use the suit.
Size and Fitting
We have all sizes available that are for children and adults. We have perfect sizes and fittings for everyone. Your whole family can wear the same kind of suit for a party. We have large, small, medium, XL, XXL, XXXL, XXXXL and 5XL.
Final Thought
LED light up stickman costume is an excellent choice for Halloween and costume parties. Therefore, HalloweenCostumeForKids has brought you an amazing LED stickman and Light up costume. There are different sizes and fittings available for your whole family. The costume is affordable with a small price tag of $35 only. It has everything including LED lights, controller, shoes, gauntlets and other accessories. We have made the costume durable so you can wear it for different occasions as well. It will work without any problem. The sewing is done with perfection to provide durability and comfort.
You can change the color, brightness, and pattern of the LED lights and set according to your style. The lights will illuminate the whole costume that will catch the attention of the crowd. It is comfortable to wear the whole day and easy to use. Everything is ready and you just need to put batteries and wear it.
What are you waiting for? Get your LED light up stickman costume today and rock the floor.
Reviews
Tags
size chart