Details
Details
Let us share the great news for you! You are on the right platform for the kids marshmallow costume. Marshmello wears a custom helmet for public appearances. His identity is unknown. It has been suggested that Marshmello is American DJ Chris Comstock. It is also known as Dotcom, who style the Marshmello's. Skrillex referred to Marshmello as "Chris" in an interview.marshmello's popular songs include:alone,happier and so on. For those that want to gift their kids with perfect dj marshmallow costume. Halloween costume for kids is the best platform for you. We bet you already know what you are searching for. Thus, you are going to find it here. We have got the most comprehensive collection of premium kids marshmallow mask. And, marshmallow helmet, and any form of marshmallow costume. Whether you are looking for something high-end and within budget, this is the platform for you.
how to diy Marshmello Costume yourself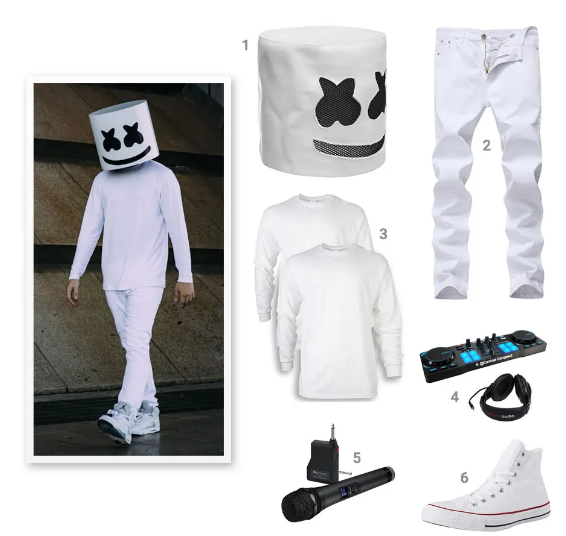 Marshmello Helmet




Fashion Jeans Pants




Long Sleeve T-Shirt




Compact DJ




Microphone Wireless

Chuck Taylor High Top
Why marshmallow hide his face?
Marshmello always remained helmeted and people started wondering why. He tweeted once saying that,'I don't take my helmet off because I don't want or need fame. I'm trying to create something positive for people to connect with.'
Who is this Marshmallow Man?
Social media has also revealed marshmello's identity in the past. Twitter users found that marshmello and Comstock had the same leg tattoos as early as 2016. Another producer added a shot of mashmelo without a helmet to instagram's story.

You are going to find a different collection with brand names, and offering discounts. All are reliable, convenient, and safe. The payment methods are secure, irrespective of the amount that you choose to spend. The best part is - our marshmallow costume is we never compromise on the quality. Regardless of the price, we make sure that every single customer can get the best quality.

Every day you are going to find store discounts, online only offers on price, and the chance to save even more. But one thing that you need to keep in mind is, you have to act fast. The reason is, the kids marshmallow mask is one of the most sought after accessories. Thus, the demand for this product has increased by leaps and bounds. If you are planning to give your kid the marshmallow costume, then get it for him/her right now! Think how jealous your friends are going to be when you tell them that you have got the marshmallow helmet.

Who is Marshmello on fortnite?
Marshmello – whose real name is Christopher Comstock – said: "We made history today! So insane, thank you Epic Games and everyone who made this possible!"
Even though we try to keep up with the on-going demands as much as possible. But there are a few times when the requirements are high. That is when it becomes tough for us too. We make sure that you get the best price for your money. We help our customers in making an informed choice while buying. You can check out the ratings and reviews of our previous customers. You can also compare the prices, the shipping charges as well. Also, the discounts we offered on the same products.
Every costume you buy is star-rated. It comes with comments provided by the previous users. Thus, you can buy with confidence every time. In short, you won't have to rely on our word for it. We have got countless happy customers to vouch for us. If you are new at buying the kids marshmallow mask or costume, then it is better to check out the available coupons. In this way, you will save a lot of money. Once you get in touch with us, you will have the best marshmallow helmet at the best prices.
Why is Marshmello so popular?

1. Trap is his main style. It's a very popular genre at the moment, especially around the teen/younger audience. He also throws in some dubstep to attract people from that crowd, too.

2. He wears his signature clothes and helmet. The all-white clothing style and helmet makes him stand out as having a face and a look to go with his brand.
3. He appeals to a young audience. Almost none of his songs are explicit, and they almost always have a happy vibe to them. His YouTube channel even has "Cooking with Marshmello", a simple child-like cooking show. He makes cakes and other easy-to-make dishes.

4. His musical style is simple. This helps for two reasons: 1) It's easy to listen too. 2) Aspiring music producers see how few layers, and the lack of complexity, it takes to make a Marshmello song. And they feel inspired to go and make their own songs.

5. His 'face reveal' controversy. There's a massive debate about who he is. In shows, he takes off his helmet, and it's always someone different. The biggest suspicion is that he is Dotcom, and there's a big thing about that, too.
Reviews
Tags
size chart