Details
Details
Deadpool, whose real name is Wade Winston Wilson, is a disfigured mercenary with the superhuman ability of regeneration and physical prowess.he is the only avengers's superhero wear a red mask. many fans have opened a real hunt for paraphernalia from the movie. Fans want to order Deadpool costume to become like a hero, closer to their idol. but, it is quite difficult to find high-quality and moive replica costume.
How to diy your Deadpool Costume yourself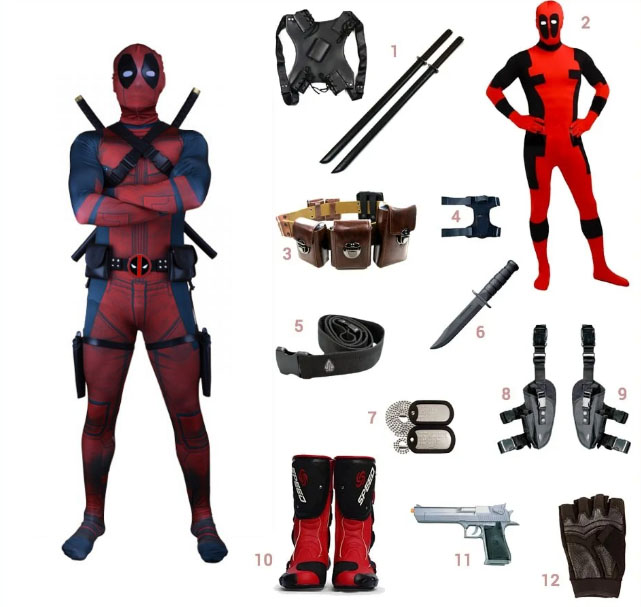 Dual Swords with Scabbard




Deadpool Full Body outfit




Deadpool Belt Buckle and Pouches




Neoprene Knife Holder With Straps




Belt with deadpool logo




Cold Steel Rubber Trainer Knife




Wade Wilson "Deadpool" Dogtags




Tactical Left Handed Leg Holster




Tactical Right Handed Leg Holster




Red and Black Motorcycle Boots




Desert Eagle .44 Airsoft Pistol




Tactical Half Finger Glove
The deadpool cosplay costume detail
The suit is made out of 4 way stretch fabric which is a blend of Spandex and Polyester. High stretch make you easy to wear in or out;the suit its one piece to the toes and also goes all the way like gloves to the hands
1.Breathability: Good breathability, breath freely.
2.Permanent color. Never Fade.
3.Conceal back zipper.
4.Available for machine washing .soft handwashing is suggested.
Finest Detail Fabric Printing : Vibrant & Last Long Color. Colors will not fade after washing.Reinforced seams & stitches, delicate sewing craft ensure your excellent cosplay experience.The superhero cosplay costumes make you be vivid as the characters,The 3D visual effect is realistic.Occasion:Great for halloween,cosplay,party,show,birthday,photography.As a gift,it's also a good choice.
Free return and replacement are acceptable if you are not satisfied our product.
Superhero cosplay costumes make you be vivid as the characters.Officially licensed Marvel costume, look for trademark on label and packaging to help assure you've received authentic safety-tested item.Deluxe costume jumpsuit with fiber-filled muscle-chest and overhead mask.Inner mask has printed graphics to look like scarred skin
he doesn't want his opponents seeing him bleed. The black portions of his costume are just to help him look tough.
The jumpsuit is bright red, which Deadpool uses to hide his wounds during a battle
Inner mask has printed graphics to look like scarred skin
Waist Belt and Strap
PU and A canvas belt for a comfortable fit.
Belts strap and holster add a heroic temperament.
Belt and pouch material: canvas and PU leather, strap and holster material: PU leather and canvas.
1.Suitable for adults with a waist size of 90 cm to 115 cm
2.Can bear the tensile force of more than 150 kg, and the process will not break!
The belt even includes Deadpool's symbol on the front.

sword

double swords is about 60 cm that made of 100% Plastic,put the double knife in the backpack and it can be completely fixed.
mask

The eyes of headgear had open holes,you could see anything with it.
【HIGH QUALITY AND REALISTIC】-- The deadpool mask is made of high-quality 100% natural environmental rubber latex. Non-toxic, water-proof insulation, and easy to clean.
【VISIBILITY AND BREATHABILITY】-- Latex/PVC is elastic and stretchy, with plenty of space and breathability. There are no obstacles in your sight and breathing on this masquerade mask.
【Note】-- You will smell a smell at the beginning, don't worry, it's the odor of natural leather. Just put the mask on ventilated place, the smell will disperse.1
Why our deadpool cosplay costume different from others?
100% high spandex material,Zipper closureFinest Detail Fabric Printing : Vibrant & Last Long Color. Colors will not fade after washing.Reinforced seams & stitches, delicate sewing craft ensure your excellent cosplay experience.The superhero cosplay costumes make you be vivid as the characters,The 3D visual effect is realistic.Jumpsuit covers the entire body from neck to toe; Mask can be removed.Send us message by height and weight before order if you can not decide what size fit for you.
Is Deadpool good or bad?

Wade Winston Wilson is neither good, nor bad. He works on both sides, but is not loyal to either. He is a mercenary and assassin who would alter the world to bring down his target, for a price. Deadpool is a psychopath, a hero, a villian, and the most mysterious madman you could ever chance to encounter.
What happened to Deadpool's face?

It has been revealed that at the time his healing ability was given to him, Deadpool suffered from some form of cancer; after the healing factor was given to him, it made his normal cells as well as his cancerous cells unable to die, giving him a heavily scarred appearance beneath his suit.
Can Deadpool die?

Deadpool is immortal. the only way to kill him would be through thanos removing the curse, then striking his healing factor with carbonadium OR complete atomization. Although, marvel revealed they will be killing him.
How did Deadpool get his costume?

Deadpool wears a red and black full body tactical suit in order to hide the cancer scars that cover his entire body. It was designed by his friend Weasel, a weapons designer and arms dealer who designed most of Deadpool's equipment.
The famous red mask and costume- the perfect solution for the holiday
If you read comics with his participation, you might have noticed that the Deadpool costume always looks different. In the first episodes about the mutants of the new generation, he appeared without a mask at all. Then the original red costume popularized the film. And we are accustomed to associating it with a mask of the same color.
If you are invited to a costume party, or you want to make fun of relatives and friends, then our online store is exactly what you need. Within a short time after the purchase, you can get a real adult Deadpool costume by courier around the city.
Deadpool costume with a mask and a drop of madness.
Deadpool is probably the craziest, unpredictable superhero with a long tongue and a black sense of humor. It is impossible to understand to the end, and it is impossible to guess what he will do now and even more so later. But it can be copied, trying on the image of a mercenary talker with the help of a Deadpool swords. A red and black sweatshirt will warm your warm, cool evenings. But as soon as you need the character of the hero of Marvel comics, it is enough to use the hood and lightning. And someone will never even know who is hiding behind a mask there.
The largest selection of Deadpool disguises
You look at Marvel's most shameless superhero. His sarcasm and dark humor characterize him and make Deadpool an inimitable anti-hero. This character who always wears a black and red suit and the Deadpool mask that hides a marked face is a mercenary known as Wade. In case you choose a Deadpool suit for your next party, you are sure to get there. Put aside the classic superhero costumes and join the Deadpool fashion scene with our adult costumes that fit all tastes and pockets.
Imitate the most irreverent superhero of the Marvel universe
Do you think you're a big fan of the Deadpool character? You need the Deadpool outfit like any other fan, and we offer the best prices on the market. it is the time to wear your Deadpool costume. Buy your Deadpool suit comfortably from home, get the cheapest price on the net and get it home within a few days.
Reviews
Tags
size chart