Details
Details
What Better time is there to try the craziest costumes possible other than Halloween? Now, if you think that only you can have fun then think again as your kid is there as well. They should have their fair share of Halloween excitement. That's why we at HalloweenCostumeForKids have come up with the best quality Dark Voyager costume for kids. This is a very famous character from the Fortnite gaming universe. Needless to say, this is definitely one of their most favorite characters. Kids love wicked things and video games allow them to indulge in the fantasy world. They feel like they are in a different reality and they often dream to become a part of this unique place even if for a day. The Dark Voyager costume for kids from the Fortnite series can surely fulfill that dream for you. In this Halloween, let your kids enjoy being the favorite video game character they always wanted.In this post I will be sharing all the details you need to know to make a successful purchase. So, let's get started.
Dark Voyager is one of the futuristic skins from the Space Explorers set. This is an all-around great looking skin with the dark gray/black colored space suit and the orange highlights. It's just a shame that it wasn't one of the skins that you could customize the color on!OFFICIAL DESCRIPTION:From the vast darkness of deep space.Dark Voyager is an outfit skin available on the video game Fortnite for players in Battle Royale. By playing Tier 70 of Battle Pass Season 3, gamers get access to this dark and awesome skin which is said to be inspired by the vast darkness of outer space. Closely resembling an astronaut suit, this skin features a cool black outfit and out-of-this-world space helmet to cover the character's head in the game.The Dark Voyager is among the space-themed outfit for the game. This outfit features a dark space suit with glowing orange stripes and a closed pitch-black space helmet. Although getting the costume does not automatically gives the Dark matter backpack back bling, it is the outfit that the Dark Matter backpack is designed for and goes exceedingly well with it.The outfit is part of the Space Explorers Set which contains a total of 6 items including the EVA Epic Harvesting Tool and the Dark Matter Legendary Back Bling.
How to Dress Like Dark Voyager from Fortnite Battle Royale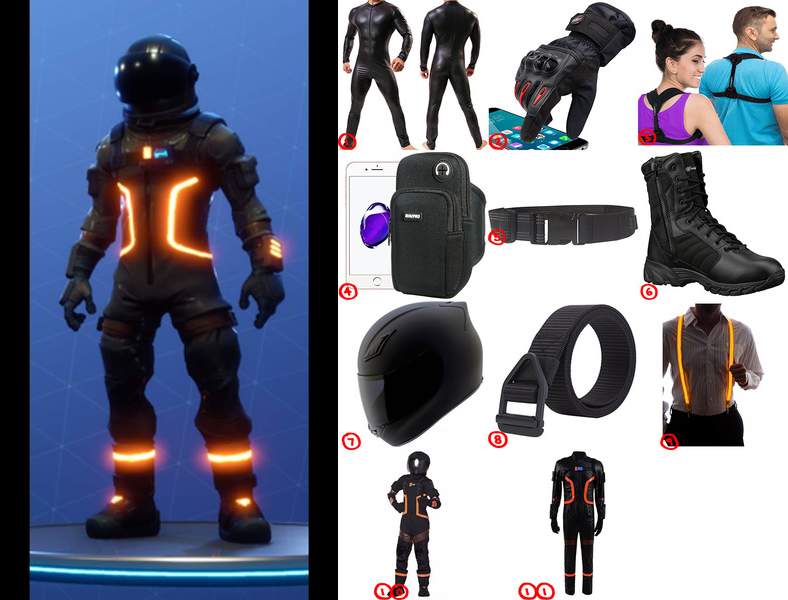 | | | |
| --- | --- | --- |
| 1 | Black Faux Leather Jumpsuit | Get a plain black faux leather jumpsuit to wear. |
| 2 | Black Gloves | Get a pair of black leather gloves. |
| | | |
| 3 | Black Harness | Find a black harness to wear on your upper body. |
| 4 | Arm Pouches | Wear a pouch strap on both upper arms. |
| 5 | Upper Leg Straps | Strap on both of your thighs. |
| 6 | Black Combat Boots | Find a pair of black combat boots to match the outfit. |
| 7 | Black Space Helmet | Cover you head with a black full-head helmet. |
| 8 | Tactical Belt | Strap it on your midsection. |
| 9 | Neon Nightlife LED Suspenders | Hook suspenders to your tactical belt. |
| 10 | Full Costume - Kids | Get a full costume for kids here! |
| 11 | Full Costume - Adults | Get a full costume for adults here!. |
Space Helmet:
By far the coolest thing about the Dark Voyager skin is that it comes with an awesome astronaut helmet! Black with an opaque visor covering the eyes, this is a simple look to recreate for your costume.
You can modify a standard astronaut helmet prop with black spray paint to resemble the Dark Voyager helmet more closely.
Outfit:
The Dark Voyager skin comes with a black astronaut suit that covers his entire body. The suit has glowing orange accent stripes and brown arm straps.
For the glowing orange stripe accents, you can use fluorescent orange reflective tape or glow-in-the-dark fabric paint.
Accessories:
The Dark Voyager skin comes with heavy gray astronaut boots with glowing orange triangular accents above the toes, as well as matching gray gloves with cyborg-like accent pieces.
Dark Voyager Costume For Kids: Halloween Costumes Has The Best Collection!
Every kid wants to spend their Halloween in the most quirky style possible. So this unique and super rare Dark Voyager Fortnite cosplay is the perfect choice for any game-loving kid! The appearance of the costume is very much unique and it makes a perfect choice for Halloween. Obviously, every kid wants to look cool in Halloween and what can be cooler than becoming Dark Voyager! We give you the complete body suit along with the mask which will complete the look. Let's look at the description and specifications of the Dark Voyager Halloween outfit:
The costume is a body suit made of polyester which makes it very comfy on the skin and it's perfect for all the day use.
The body suit has a zipper which makes it very easy to come in and out of the dress.
The costume also has some great embellishment and graphical designs which makes it even more appealing.
The costume comes in a variety of sizes; make sure to refer to the size chart to have the perfect costume for you.
You will also get the cool space helmet with this costume which will complete the look.
The costume is black in color and has all the embellishment needed to give it a realistic feel.
You will also have matching gloves and shoes that go great with the costume, giving it an edge. This is very important when it comes to Halloween.
So now let your kid have all the fun he wants in Halloween with this great costume. Why wait any longer? Visit our platform halloweencostumeforkids.com and get your Dark Voyager costume for kids today! Place order today before the stock runs out.
Reviews
Tags
size chart