Details
Details
Let your actual Fortnite addiction flow this Halloween! Are you a Fortnite fan? Bursting onto the scene in 2017, the multiplayer video game has become wildly popular around the world for its wacky character designs and exciting gameplay. Whether you are working with friends to fight the husks or creating your own virtual background, bring the fun of your favorite game home with fortnite costumes for adults and kids.
Show everyone how you get down in Tomato Town this Halloween when you are all dressed up in this officially licensed boy Crackshot Fortnite outfit. A victory royale will be right around the corner when you are all set in this Fortnite Crackshot costume this Halloween. The legendary outfit is for those with a score to settle, and the Crackshot won't rest until the deed is done. The Halloween costume includes everything you need to embody this vengeful nutcracker, including black nutcracker hat, pair of gloves, signature mask, and a red nutcracker shirt with golden details. So how about getting out there and cracking some nuts in this Crackshot Halloween cosplay costume!
The Legendary skin from Christmas 2017! This is a super unique skin based off the popular nutcrackers you see during the winter holidays. It was re-released in the 2018 Christmas season and had the Birdshot back bling added to it.OFFICIAL DESCRIPTION:Get out there and... crack some nuts.Crackshot is a color red outfit with the head of a crazed-looking toy soldier – making it a little bit creepy. Due to its crown, this outfit is noticeably much taller than other characters and outfit in the game. However, the crown is not considered as a hit-marker and does not count as a body part.Crackshot is a legendary outfit for male avatars in Fortnite Battle Royale. This outfit is clearly inspired by a classic Christmas Nutcracker.His torso is red with small white details in central part much like a tie. In the lower part of the torso decorative classic black straps decorated with gold buttons. Also, there are a few straps of black color on both sides running all over the torso. The upper extremities that are red highlighted in a visually attractive detail on the shoulders of a golden color and in its final part black gloves with golden details. At his waist, there are modernist belts followed by military white trousers. And at its end sticking out high black boots with gold as the predominant color.In short, Fortnite Crackshot skin is a costume white pants, has a head of a toy soldier. A Nutcracker with a touch of an eccentric as his face has a gesture quite crazy, so that makes it a little creepy and disturbing. This skin possesses a crown that makes the suit remarkably taller than other characters or skins in the game. However, the crown is not considered a scoreboard in other words Shooting The Crown does not cause damage.
Are you wondering where you can get one? Fret not and visit halloweencostumeforkids.com and get the perfect Crackshot costume for kids. Below I am sharing the details of the product for your better understanding.
Dress Up in Your Favorite Fortnite Character This Halloween –Crackshot Costume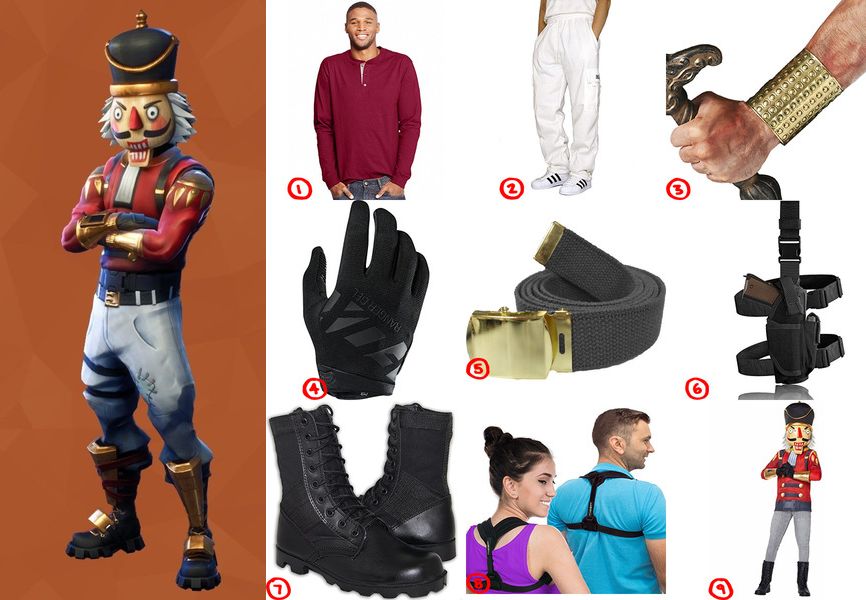 | | | |
| --- | --- | --- |
| 1 | Red T-shirt with Long Sleeves | Get a plain red long-sleeved T-shirt to wear. |
| 2 | White Cargo Pants | Pair up your shirt with white cargo pants. |
| 3 | Golden Arm Cuffs | Put on golden arm cuffs. |
| 4 | Black Gloves | Look for plain black gloves to wear. |
| 5 | Tactical Belt | Fasten your pants with a tactical belt. |
| 6 | Thigh Holster | Fasten the belt around your right thigh. |
| 7 | Black Combat Boots | Get a pair of combat boots in black color. |
| 8 | Black Harness | Strap on a black harness on your upper body. |
| 9 | Shin Guard | Brown shin guard for protecting your legs. |
| 10 | Full Costume - Adults | Get a full costume here! |
Fortnite Crackshot Halloween costumes are a popular choice once more this year. If you have your heart set on a particular Fortnite costume, now is the perfect time to get your shopping done - and at HalloweenCostumeforKids, we have just the thing to help you out. Thanks to our wide selection of official Fortnite Halloween costumes and accessories, you can bring your favorite Fortnite character to life for 2019 Halloween and every day after. Our officially licensed Crackshot Halloween costume features all the looks you are going to love.
Below I am mentioning the details of the product for a successful purchase.
Item Details:
Shirt
Mask
Gloves
Hat with attached faux hair
Features:
This is an officially licensed Fortnite costume.
The outfit is made of polyester and vacuform.
Hand wash.
The set includes a pair of black gloves with golden gauntlets, the signature mask, a hat with attached faux hair, and a red shirt with golden printed details over it.
The Crackshot replica costumes are available in child and adult sizes, fun group or family costume.
The costumes have a different type of measurement. So it's always advisable to refer the size chart before placing the order.
So what are you waiting for? Have your kid's birthday or any other fun occasion recently? Visit our website and place an order for the Crackshot Fortnite Halloween costume before the stock runs out!
Reviews
Tags
size chart