Details
Details
Captain Marvel has quickly become one of the most famous superheroes just after the release of the awesome movie. The kids love it and the grownups love them too. Plus, being a superhero costume this very easily makes as a great option for Halloween costume. After all, Halloween is perhaps the best time to show your quirky side and dress to simply impress everyone in the party. But now even the little ones are not far behind in donning the most impressive and awesome costumes. The Captain marvel cosplay suit is one of them. In this post, I will be telling you how we at halloweencostumeforkids have come up with the perfect Captain Marvel Cosplay that can make your kid steal all the attention in the party. Read on as I will be listing all the details you need to know about this costume for your better understanding. Let's get started.

How to diy your Captain Marvel Cosplay Suit yourself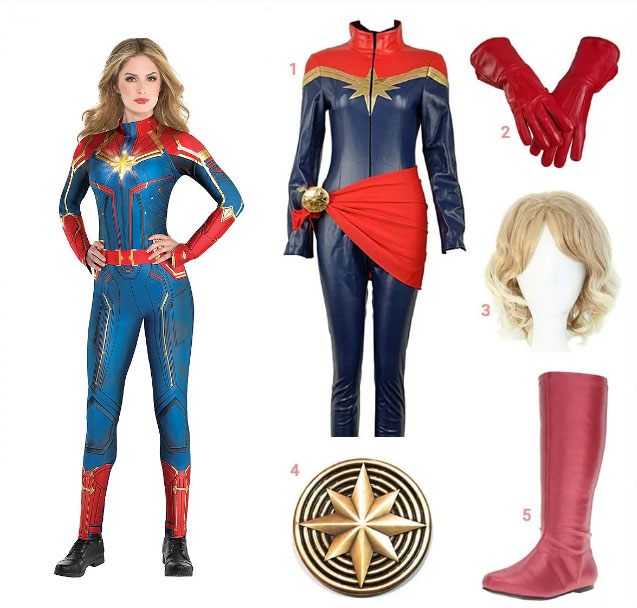 Captain Marvel suit

Leather Gauntlet




Short Curly Wig




Ms. Marvel Belt Buckle




Engineer Boot
Key Features of Captain Marvel Cosplay suit
Our Captain Marvel costume is made to give a perfect look and comfort to your girl. Let's discuss its key features in detail.
Colors on the cosplay suit
Without the correct color scheme, there is no meaning of a Captain Marvel cosplay. The color of the costume is red, blue and golden. Most of the cosplay is blue, only the upper parts, boots, belts and hands are red. While there is gold on the star and there are gold linings on the costume. This perfect color gives the captain a bold and courageous look. The color combination is appealing and shows the strength of Captain Marvel.
Our Captain Marvel cosplay for kids has the same color scheme that will give your girl a bold and strong look.
Fitting of the Costume
If you see the real costume, then you will realize its fit. The suit completely hugs the body. We have made a jumpsuit to give an excellent fit. It is made from 100% polyester fabric. So, it can be worn with comfort for the whole day. There are Velcro fasteners to give a perfect fit. To give a muscular look to your girl, there are fiberfill paddings in the chest and shoulders. The jumpsuit will look amazing on your girl.
Star Design on the Uniform
The star design is the essential part of the cosplay suit. Every Starforce member has a unique design of star and so as Captain Marvel. This is for what she is known for. It looks appealing and mesmerizing on her costume, it catches the attention of the viewers. People might have not noticed any other thing more than the star. It comes as first glance. If you look at the star, then you will notice eight edges, four of them are smaller and the other are larger.
The color of the star is golden which shines and catches the attention. Our costume also has the same star design which will give a decent look to your girl.
Stripes Along the Star
You will also notice golden stripes along the sides of the star. This is also an important part in the Captain Marvel suit, it appears to be shiny and attractive. The stripes go from the star to the shoulders. We have also included this design in the costume that has shiny golden color with shading of red color. This looks astonishing and mesmerizing to the viewer.
The Belt
Captain Marvel wears a belt that is red in color. The belt is wide around the corners of the waist that look like a pocket. It shows courage and strength. We have belt as well in our costume that looks similar and appealing.
Boots
Red-colored boots are also an important part of the costume. The boots are red and have golden stripes on them. The end part of the boots is blue which is the finger area. Boots are an important part of any costume. If you have seen soldiers, then you might have noticed their special boots. Captain Marvel also has special boots that give her a heroic look. They are straight without any heels. We have taken advantage of this feature and printed the shoe style on the jumpsuit. So, you don't need to purchase matching boots. This makes the jumpsuit cost-friendly and appealing. We have taken care of the colors, it is completely red and blue from the front. There are gold stripes as well. There are elastic bands under the foot for fitting.
Hands
The hands are red in color. They also have golden stripes on them. Our jumpsuit has the same color. You can also get leather to wear but there is no need because the jumpsuit design has everything. The fingers will fit in the jumpsuit that will eliminate the need for a gauntlet. Once again, we have saved your money.
Shoulders
The shoulder of Captain Marvel is red and muscular. So, we have inserted fiberfill paddings in the shoulders to make your girl appear muscular. The paddings are comfortable, and they will give you a nice look too.
Size
The costume is for children, there are three sizes which are small, medium and large. You can measure the height of your girl to ensure the perfect size. Small is perfect for 100-110 cm, Medium is for 110-120 cm and large is for 120-130 cm. Thus, we have sizes for 5-10 years old children.
Final Thought
Captain Marvel costume is an excellent idea for this Halloween, you can give your child a surprise, she will surely love it. This is a cost-friendly and easy idea to make your loved one happy. Our jumpsuit has everything you need, it will look perfect on your child. Then grab a costume and enjoy Halloween.
Captain Marvel Costume For Kids: halloweencostumeforkids Have It All!
If you have a child then it is very easy for you to imagine the trouble that parents generally face while choosing the perfect Halloween costume for them. Since, it is for kids, one has to keep a lot of things in mind. They need to be comfy yet they should be cool at the same time. Obviously no kid will accept a very boring looking costume for Halloween. That's why you need to give them a great costume that they know and they will love wearing. In this case, choosing Captain Marvel cosplay suit can turn out to be life-saver. Hence, all you need is a great superhero costume that they will love to done and your job as a good parent is done! This is where the Captain Marvel suit can come to your aid. This costume can be a great option for the Halloween party or any fancy dress party you might attend. Especially after the movie release and the Avenger Series, it's undoubtedly one of the most recognizable costumes out there so needless to say, your little kid will surely get a lot of attention in the party. Just like you have wanted! Although, this costume might not lend your kid any superpower but it costume will surely give her a charisma which is unparalleled in nature. Below, I am listing all the specifications of this product for you to make a successful purchase:
Features:
this suit has 100% polyester fabric and fiberfill. This is specially done keeping in mind the children. They can now wear and enjoy this costume without any worries all day long.
This is actually a jumpsuit which fastens with Velcro at center back.
Also, it comes with soft-sculpted fiberfill padding in chest and shoulders which give the total costume a muscular look.
The boot tops feature elastic band under foot.
So what are you waiting for? Visit us at halloweencostumeforkids.com and book your Captain Marvel cosplay today before the stocks runs out!
Reviews
Tags
size chart