110 Winning Group Halloween Costume Ideas
Posted: Aug, 9, 2019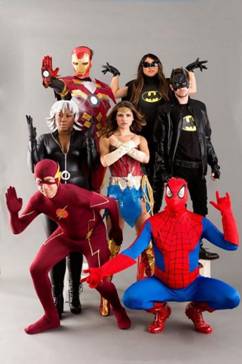 It is never too early to start planning your family Halloween costume, especially when you are in search of the perfect getup that will leave every member at the party agape. In fact, I believe it is one of those special nights that truly surprises and tickles everyone.
So what's better than dressing up for Halloween? Dressing up with your entire squad! Let's be honest, everything becomes so much more fun when you do them with your friends, dressing up included.
Halloween season is all the more fun and exciting when you do the merriment in groups. With a few friends, a little coordination, and a bit of creativity, you are set to wow the crowd with a star-stellar number that is sure to win you and your group the best costume award. Here we have gathered for you a whole range of costume ideas for you to choose from, whether your group contains 3, 4, 5, 10 or even 50. Scroll on to find out what are the best costumes for groups! You are sure to win any group Halloween costume contest with these amazing ideas. There's everything from cute to scary to freaking hilarious: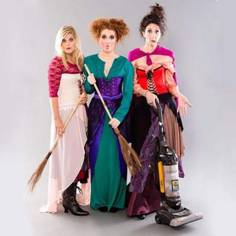 Hocus Pocus Costumes: You and your squad are going to look soooo good! What can be better than a wicked AF sisterhood?! Be sure to scream, shriek, and screech at any new technology that crosses your path! Don't forget the brooms. They are just perfect for any group of friends.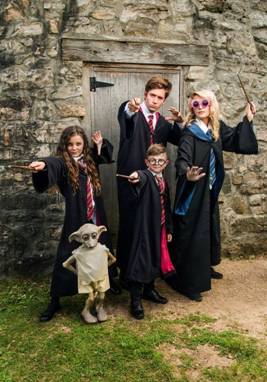 Harry Potter and the Squad Costumes: Take admission into the Hogwarts School of Witchcraft and Wizardry and dress the whole family up as your favorite characters from the film Harry Potter this Halloween! How fun it can be adding Dobby too, isn't it? We have got robes, magic wands, and Gryffindor scarves too. Have a magical Halloween!!!!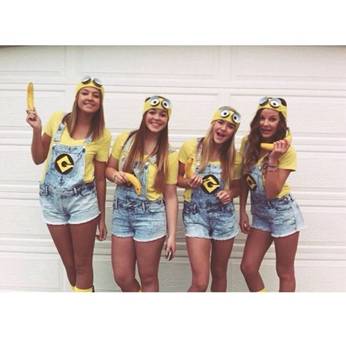 Funny Minions Group Costumes:You are gonna love Despicable Me! These little minions are the funniest and best little creatures. Everyone will complement you seeing you and your friends in this easy and cute group costume for you and your mischievous friend. The costume includes a long sleeve yellow shirt, jean shorteralls, and tall yellow socks.
Coco Group Halloween Costumes: This 'Coco' inspired costume will be an instant hit at any party! The costume is a blend of cultures that everyone will appreciate! If you are in love with 'Mama Coco' post the movie, gather your family members and friends and embody your favorite aspiring musician, Miguel, and the rest of his family and friends. Also, pay attention to the makeup needed for this costume as the key is in the details.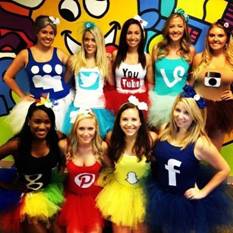 Social Media: It's all about social media these days! You might gather your friends and turn every social media platform into a costume. Each one of you can pick your favorite platform and color-coordinate the outfit as per the platform's color. Whichever style you may choose, this is going to be one of the best group Halloween costumes for 2019!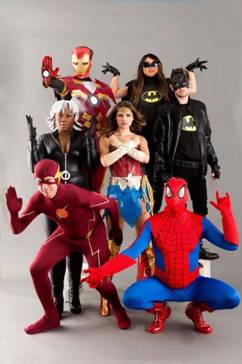 Superhero Costumes: At last for Halloween, Marvel and DC can join forces. Unite your squad for a superheroic theme. Instead of sticking to one universe, pick up your own faves and go from there.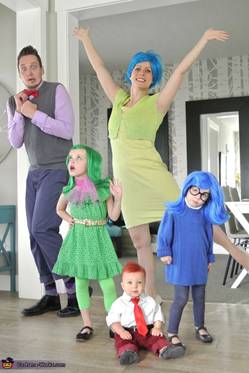 'Inside Out' Group Costumes: From joy to sadness, fear to disgust, and even anger, your squad can express all the emotions this Halloween. Use wigs or temporary hair dye to get the players just right.
Toy Story Aliens: And who does not love these lovable Disney characters? Toy Story Aliens is one of the group Halloween costumes everyone loves! Dress in blue and add some eyes to a green beanie and stick some paper mache antenna to it for a DIY costume winner!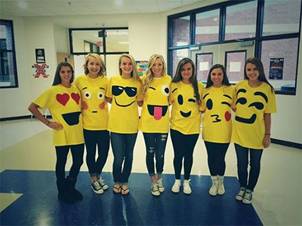 Emojis Group Halloween Costumes: In this era of digitalization, this is the perfect costume for Halloween! And being honest, emojis can never go out of style! There are a lot of ways to make your own emoji costume, but what so great about these costumes are they are cute, they are easy, and you can get all of your friends in on the Halloween group costume idea.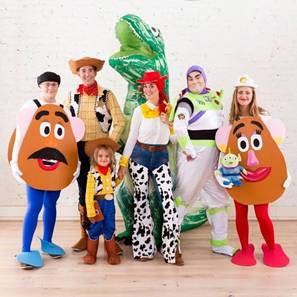 Toy Story Group Costumes: Creating this Toy Story group costume with your crew will be nothing short of exciting. You will blast off to infinity and beyond with these Toy Story costumes. With children being a part too, they will have a blast playing around in these fun disguises. They will love to don Jessie's hat and Buzz's wings. Your group is sure to win the "best Halloween costume" award at the party!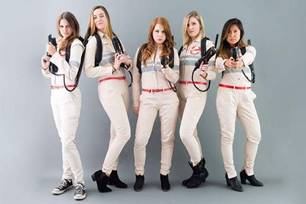 Ghostbusters Costumes: Who you gonna call when you need a last-minute Halloween costume? Ghostbusters! Only have a friend group of girls and step out in this drab tan jumpsuit! Grab your besties and pay homage to the new all-girls crew.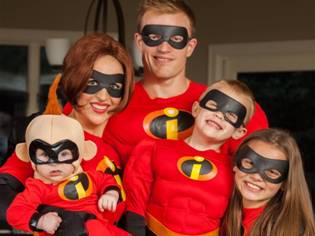 The Incredible Group Costumes: Save the world as a super family by dressing up in this outstanding Halloween group costume. Dress up your entire family as the Disney's super hero family – The Incredibles. This Halloween costume is great for a group of friends or a family and will certainly get a bunch of "aww"'s! The "awwwww"'s will get even bigger if you have a baby sibling to dress up as Jack-Jack.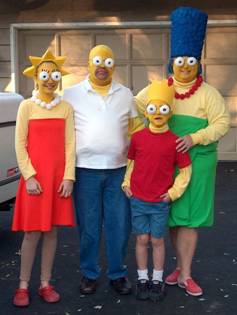 The Simpsons: It is a complete family affair with these group Halloween costumes. You can even include your kids and dress them up as Maggie!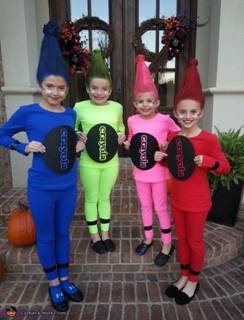 Crayola Crayons: Aren't these Halloween costumes cute and easy? These officially licensed costumes even use the original Crayola color names such as Cerulean Blue and Vivid Violet. Remember those? Truly said, some classics can never get old!!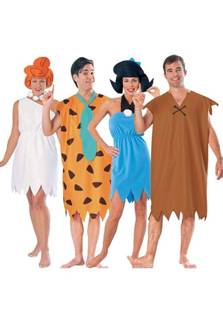 The Flintstones: Just a fair warning - if you choose this as your family group Halloween costume, Dad has to make "Yabba dabba doo!" his catchphrase of the night. Feel like you just jumped into your favorite classic cartoon when you put on this Fred Flintstone Animated Halloween Costume! The costume is back with a throwback look that will have everyone yelling Yabba Dabba Doo!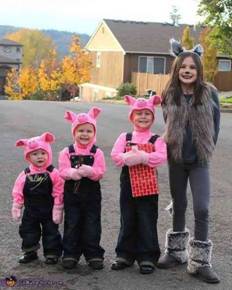 Wolf and the Three Little Pigs: Here's a fun DIY costume for a group of friends or siblings! Blow your house down!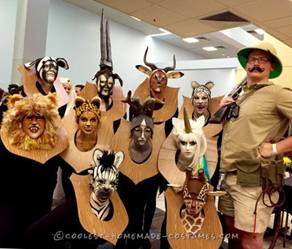 Taxidermy Animal Heads Group Costume: You and your squad cannot go wrong with this funny group costume. This simple idea of hunter's trophy wall of animal heads if executed properly will be a sure hit. Your group can choose their own favorite animal and get started! Pay attention to the makeup needed as the key is in the details.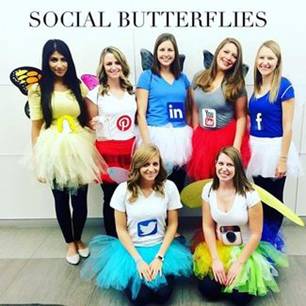 Social Butterflies: With the importance of social media cannot be ignored, just tape on the logos for social networks such as Twitter, Facebook, then throw on a pair of wings.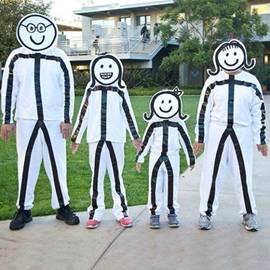 Stickman Halloween Costume: With white outfits, masking tape, and same poster board, your costume can be the main talk of the block for the night.Strike a pose and stick your picture on the back of a minivan for authenticity when posting to your IG feed. This will make you go both simple and creative.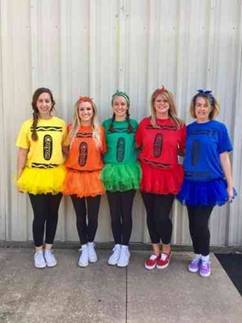 Crayon Costumes: Crayons were the most favorite and important part of our childhood! So why not bring them back and make them a bit sexier? Grab your besties and choose your favorite colors - simpler than a free printable coloring page.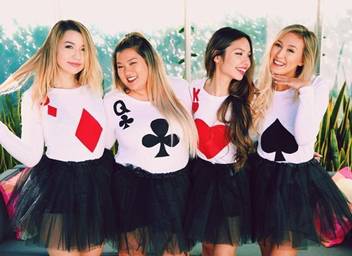 Playing Cards: If you are looking for a last-minute costume that will still have you super on-trend, these costumes should be your go-to. A white tee and some paints can give your girl squad an original costume with a small amount of DIY work.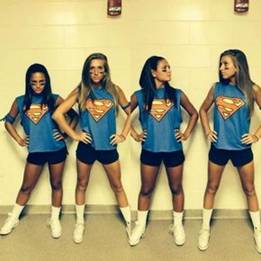 Super Girl Group Halloween Costume: Go above and beyond with your squad to save the day in this fierce outfit. The very essence of Halloween parties can be done justice to with such a costume.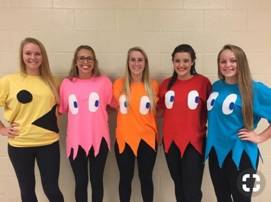 Pac-Man Costume: This costume idea is super fun as you get to play tip with your crew for the entire night. Just make sure you all draw straws for who has to wear the Pac-man costume. Good ol' Pac-Man. Waka-waka-waka-waka….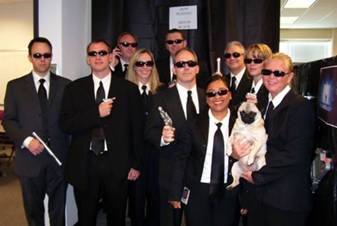 Men (and Women) in Black: Thisominous all-black group Halloween costume exudes an air of mystery that will draw stares. This is an incredible idea for a group costume. Your group will arrive at the party in matching suits and sunglasses inspired by the sci-fi comedy.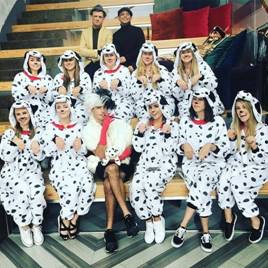 101 Dalmatians and Cruella De Vil: Essentially, this Halloween group costume idea could work ideally for up to 102 people! You could throuw a Halloween bash just for this costume!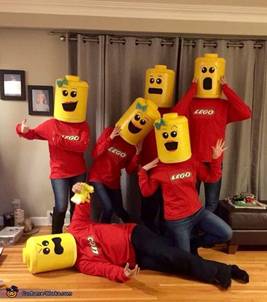 Lego Men: This can be the most perfect group Halloween costume if you are dedicated to stand out! Don't worry, as you can actually see through their mouths! Let your nostalgia flag fly!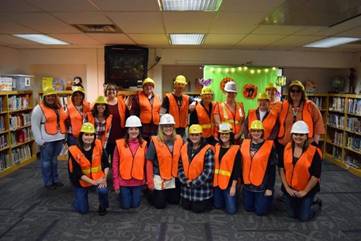 Orange Is The New Black Costume: Looking for a badass group Halloween costume for your squad? Why not dress up as the favorite inmates from the hit Netflix series, Orange Is the New Black.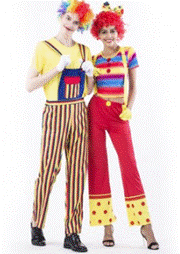 Crown Adult Costumes: This clown costume has all the hallmarks of a silly, fun-loving crown, like fluffy pom-poms and bright colors. Go for face painting and get that extra-edge.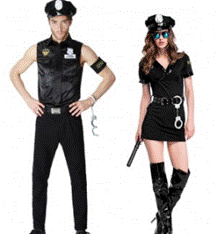 Police Cop Halloween Costume: Ready to make some arrests this Halloween? Deliver justice this season with Halloween police cop couples costumes.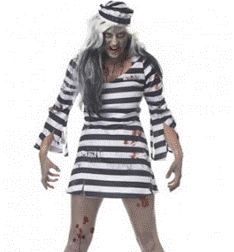 Zombie Prisoner Costume: How about giving your friends and family a fright this Halloween? Scare everyone and live the rest of your undead life in jail!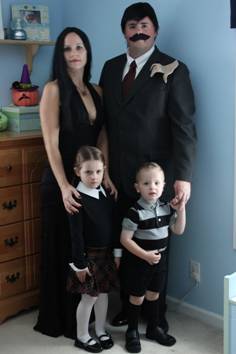 The Addams Family: If you want to nail the creepy Halloween look, these costumes are the perfect. The Addams family and Halloween go hand-in-hand. They are perfect for a group or family of eight.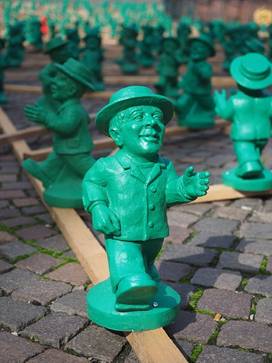 Toy Soldier: You must have remembered them from the movie Toy Story! Now you can take the regular soldier outfits to the next level with a plastic soldier costume and complete it with underfoot bases.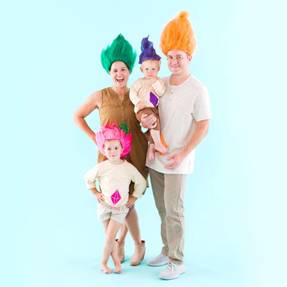 Trolls: The costume that works best for any sized group. The costume is sure to turn heads. Pick up a nude-colored dress and all you need is a wig. All you need is a colorful hair and belly button jewel.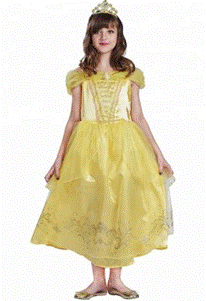 Beauty and the Beast: How about being Lumiere and Cogsworth? Whether or not you are a fan of the live-action adaptation of Disney's Beauty and the Beast, the costume will look amazing on any group of friends.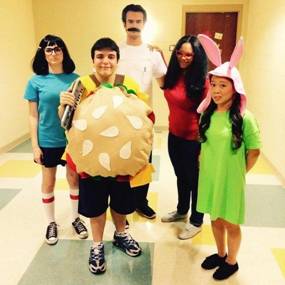 Bob's Burger: Don't want to get too elaborate? Louise, Linda, Tina, Bob - the main characters of FOX's hit TV series 'Bob' Burger' are the ideal group costume.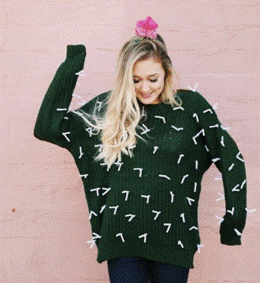 Cactus Costume: Luckily, the costume is not nearly as prickly as the real thing, but you will still be looking sharp.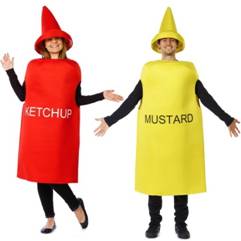 Ketchup and Mustard: Got a red or yellow dress handy? Then you are halfway to a delicious Halloween costume!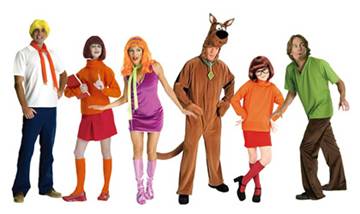 The Scooby Gang: Put your bet detective skills to work with this perfect group Halloween costume! And make sure you bring Scooby Snacks to refuel.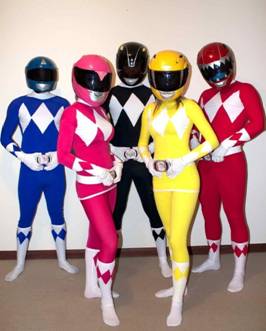 Power Rangers: The best news? Everyone can pick their favorite color! The classic, colorful Power Ranger costumes bring the fun of Angel Grove into the real world. So why not introduce a little '90s love to your Halloween costume?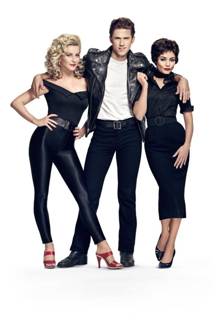 The Cast of Grease: You will be dancing and singing 'Summer Nights' the whole time with these Halloween costumes.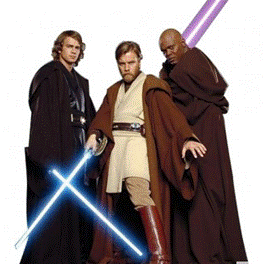 Star Wars: Roll out as the Rebel Alliance or pledge your allegiance to the dark side, get a decent Star War costume that is relatively affordable. Pair of with your friends for a group of Stormtroopers.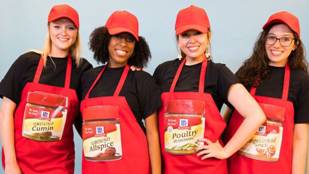 The 'Spice' Girls: Not wt you typically think of when you hear Spice Girls. This is what that makes the costume much better! Pick out your spices with a group of friends. You can be as creative as you want with this Halloween group costume.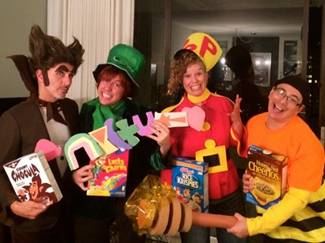 Cereal Box Mascots: Pick your favorite cereal an become the cartoon on the box! The best thing about the costume is you won't get hungry throughout the night! Grab a cereal box and you are set!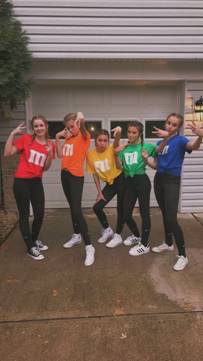 M&M: The costume is perfect for the candy-filled holiday!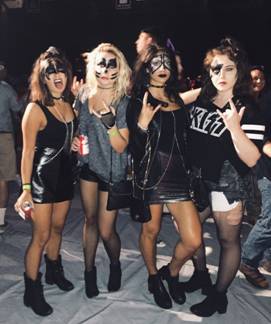 KISS: They are THE PERFECT if you live for dramatic and speaking eye makeup.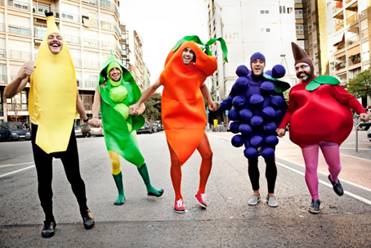 Fruit of the Loom: Whether you are just fruit or Fruit of the Loom, this group costume is a fun for everyone. There are green grapes, pineapple, and a peach, too.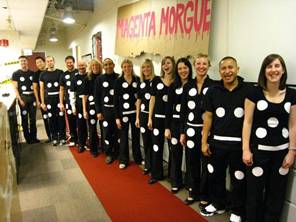 Dominoes: For all the hardcore dominoes out there, you will have the most fun with this costume. Place the dots on the costume yourself, so you can each be a different number. Arrange yourself then for an epic group picture!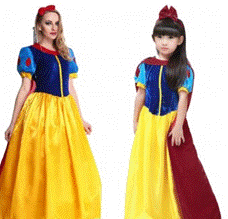 Snow White: Create a magical costume party!To stay true to the character, carry an apple - or just bob for one. Snow white and the seven dwarfs group Halloween costumes is just perfect for any size group.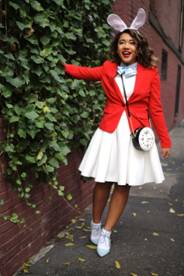 White Rabbit: Better not be late to your party while wearing this adorable Halloween costume inspired by ' in Wonderland.' To get the perfect look pair your white dress with a red blazer and some bunny ears.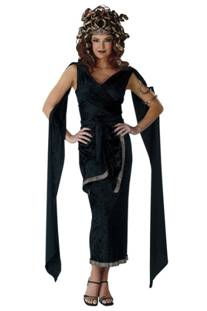 Medusa: Grab a white dress and some toy snakes to turn yourself into this serpent goddess.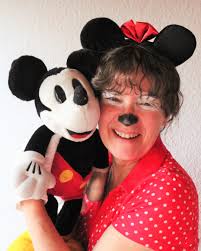 Minnie Mouse: You are sure to have much fun while dressing up as everyone's favorite Disney mouse for Halloween.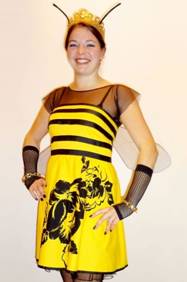 Queen Bee: This buzz-worthy look is sure to be the talk of the party.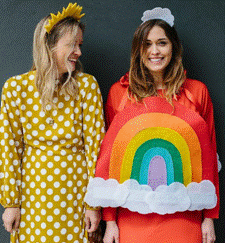 Sunshine and Rainbow: Have you ever thought this - to bake a cake full of sunshine and rainbows so that you could all eat it and be happy. You might cannot do that, but you can surely wear it as your Halloween costume.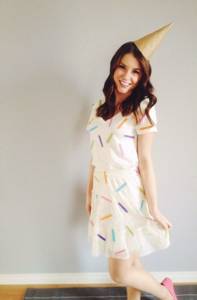 Ice Cream Cone: This Halloween costume is for the girly girl gang who scream for ice cream. All you need to do is, pull a white dress and fem heels from your closet and then add the sprinkles.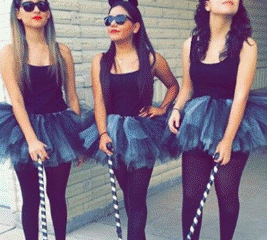 Three Blind Mice: Get together with your girl gang and form the Three Blind Mice with nothing more than sunglasses and a set of ears.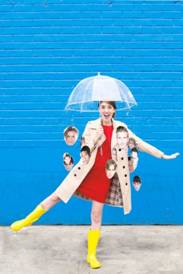 Raining Men: Hallelujah! It's raining men! What better way to show off all your celeb crushes than with a unique and funny Halloween costume that is super easy to pull off and gain attention.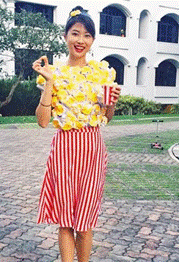 Popcorn: Show up to the costume party looking like a whole snack - literally. And you're sure to be the talk of the town.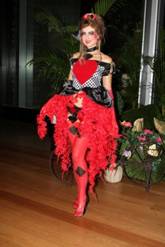 The Queen of Hearts: You are sure to rule Wonderland with this costume!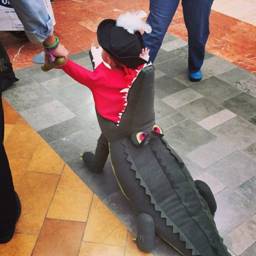 Captain Hook: Take the classic Pirate costume to the next level! This Captain Hook costume being eater by the crocodile toddler costume will win you the best costume award!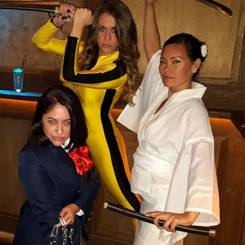 Kill Bill Costumes: Avoid unwanted attention with this group Halloween costume. I bet no one would be foolish enough to mess with you and your friends when dressed in Kill Bill Halloween costumes with wielding weapons.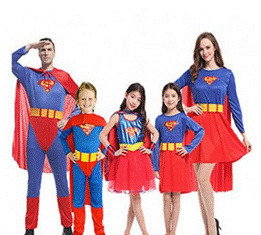 Avengers Costumes: Pay tribute to the superheroes with this group Halloween costume! The legends will stay forever - especially with this super heroic Halloween costume.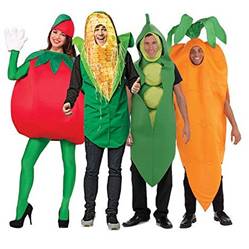 Vegetable Group Costume: This is something incredible hilarious! With giant fruits and veggies around a room, stay ready for a healthy dose of laughter.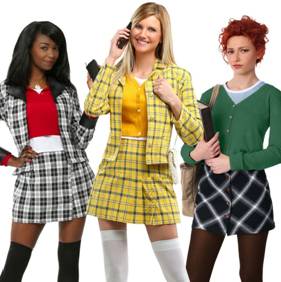 Clueless: Channel this iconic '90s girl gang this Halloween by grabbing two of your closest friends. This is ought to be fun!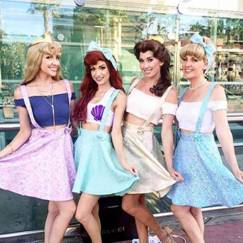 Disney Princesses: Your girl gang will definitely love this!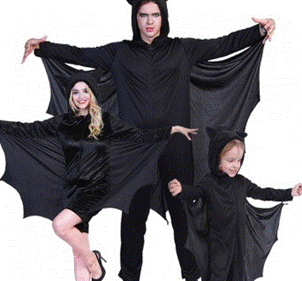 Batman Costume: Discover your own dark side by becoming the Dark Knight! How about involving your PARTNER in crime too!!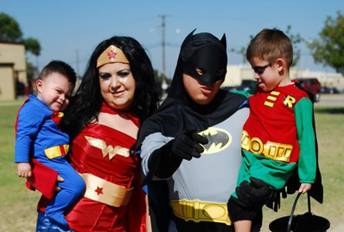 The Justice League: For those of us who want to gather your own gang for Halloween, these costumes are perfect for any group of superheroes.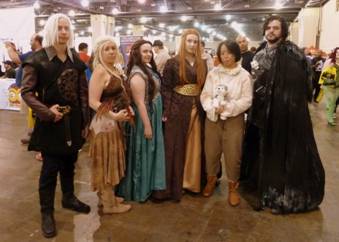 Game OF Thrones: Gather all your friends who love Game of Thrones just as much as you, and go as Cersei, Sansa, Jon Snow, Daenerys, or any other characters.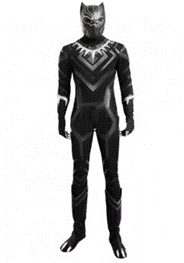 Black Panther: Wakanda forever! You and your friends will turn heads this Black Panther group cotume as Okoye, Erik, Shuri, or Black Panther.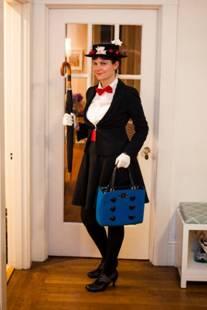 Marry Poppins: Bring the Disney classic into life with this creative family costume. The little one will look super cute as Bart in his pavement chalk artist gear.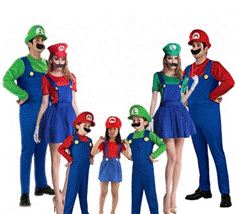 Mario Kart: Are you feeling nostalgic? Take it back to your childhood, with your favorite video game, Mario Kart. Pick your favorite character, your own cardboard kart and bring this game to life. Have fun racing each other around the neighborhood for your favorite candy.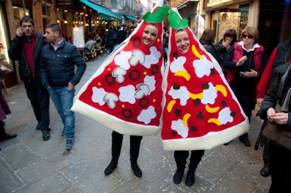 Pizza Party: Bring the pizza party to life with this Halloween group costume! This is the best kind of party and the costume just makes it better!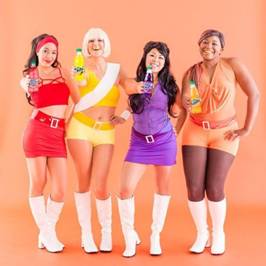 Fanta Girls: "Fanta Fanta, don't you wanna?" Grab a Fanta and a fantastic colorful dress and sing the jingle all night!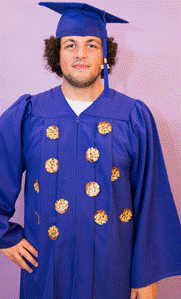 Smart Cookie Costume: If you really want to win 'Best Costume' award, show up with a plate full of warm cookies.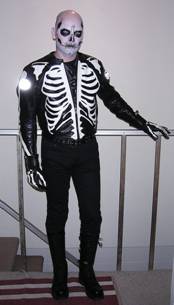 Skeleton Costume: No, you really do not have to go back to the anatomy class for this look. Just cut out sections of your t-shirt to create a ribcage illusion and add some face paint to make it look more realistic.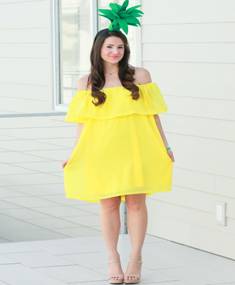 Pineapple Costume: Pretend that you are basking in the tropics with this DIY pineapple costume. Just craft a green crown and you are all set to rock!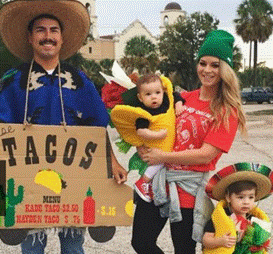 Taco Family Costume: Everyone's mouth will be watering as soon as they see your family in Taco group Halloween costume.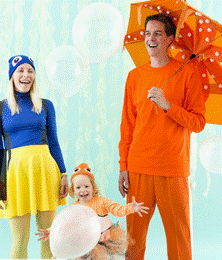 Finding Dory and Nemo Costumes: Dress up as everyone's favorites fishies and your group costume is guaranteed to be a crowd-pleasure.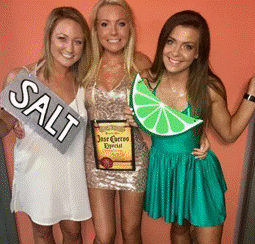 Salt, Lime, and Tequila: Can you name a better trio? You and your two best friends will be the life of the party with this amazing Halloween costume. All you need is color-coordinated clothes – white for the salt, green for the lime, and sparkly for the tequila. You are all set then!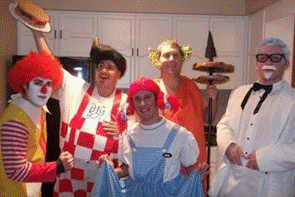 Fast Food Icons: We all have our favorite fast food chain where we probably hang out with our group of pals. So what's a better way to commemorate the good times than paying homage to your favorite fast food chain! Dress up as the Burger King, Mc Donald, Wendy, and Colonel Sanders for the best Halloween group costumes of the year!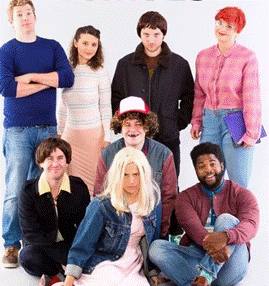 Stranger Things: Show some courageous will to save WILL!!The costumes make it easy for you and your friends to go as the Stranger Things characters. You and your friends' gang could take on the Upside Down this year as the coolest costume in the town. See you in Indiana!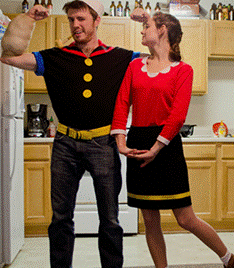 Popeye and Olive Oyl: Dress up as everyone's favorite dynamic duo this Halloween and don't forget to take a can of spinach along!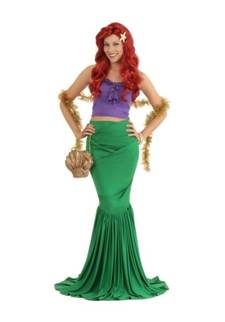 Mermaid: You have always been a mermaid on the inside - so why not get a costume that will reflect it on the outside? Yeah!!!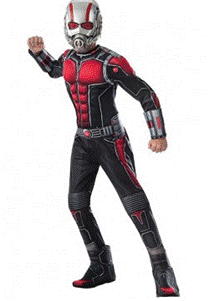 Ant Man: You will be ready for any kind of espionage mission in this Wasp costume, whether that means heading to the quantum realm or a round of trick-or-treating.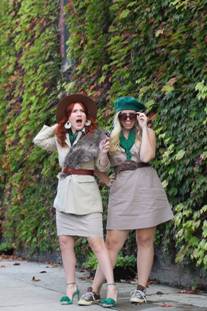 Troop Beverly Hills Costume: Get your best friend and create a troop of your own for a 90s-inspired look.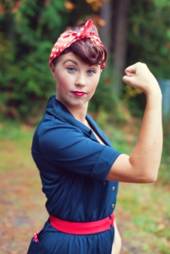 Rosie the Riveter Costume: Nothing screams 'girl power' quite like Rosie the Riveter. Since there is a little Rosie inside every woman, chances are there you can make headlines with this Halloween costume.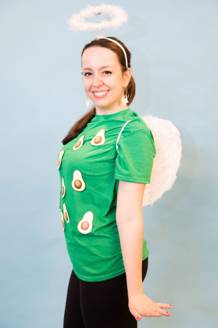 Holy Guacamole Costume: Avocado lovers, time for you to rejoice. This adorable Halloween costume combination ca be both delicious and heavenly.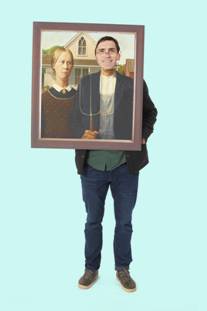 American Gothic Costume: Get your hands on these costumes! It is easy, quick, and a soon-to-be American classic.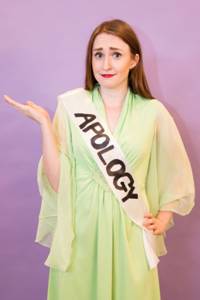 Formal Apology Costume: Your girls' gang will nothing to have sorry about. Just grab a nice suit or dress from your closet and pair it with a customized sash.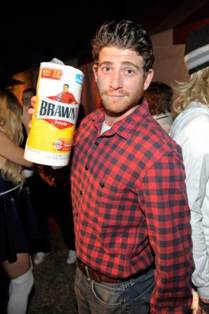 Brawny Man Costume: Walk around with your group with a roll of paper towels and everyone at the party will instantly fall in love with you - especially if their wine takes a spill.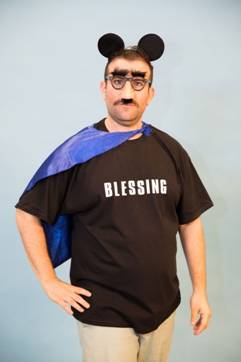 Blessing in Disguise Costume: You will feel blessed for coming up with this genius idea. You can get as creative as you would like with different hats, glasses, wigs, and so on.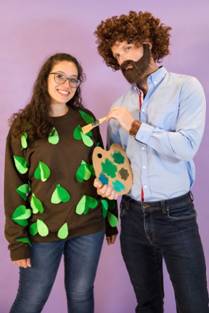 Bob Ross and Happy Tree: So your late night Netflix binge has gone 3D. Sport a curly brown wig with the sweatshirt disguised as one of Bob's masterpieces.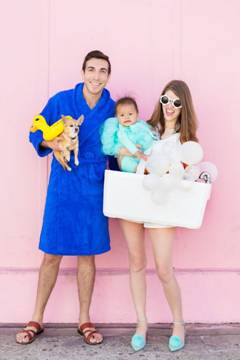 Bubble Bath Costume: The best one for a group! Mom will carry the brunt of this costume but baby loofah is meant to steal the show.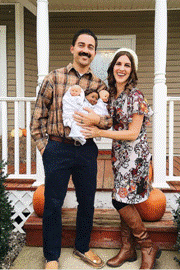 Jack and Rebecca Costume: Your love is as pure as Jack and Rebecca? Why not show it off on Halloween then? Don this 70s-inspired look and then task him with carrying around three baby dolls.
Instagram Filter Costume: Each of your friends in the gang can go as a different filter! To make this costume, pull up Instagram stories on your phone and select a filter of your choice. Use makeup and accessories to recreate the filter's effects whether it is face highlighter, dogs ears, or sunglasses.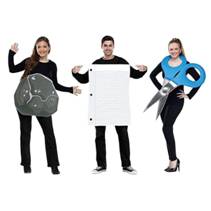 Rock, Paper, and Scissors Costume: This makes an ideal costume ensemble on Halloween for any trio. It comes with one-size fits all.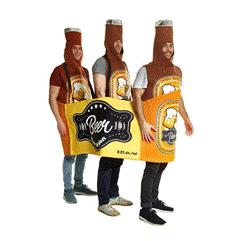 Men's Beer Bottle Case: This ultimate gag costume is guaranteed to turn heads! It goes from being boring to brilliant.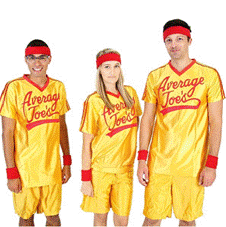 Dodgeball Jerseys: These jersey outfits can be combined to make a terrific team. The plus point is, you can customize these jerseys as per your favorite team name and number.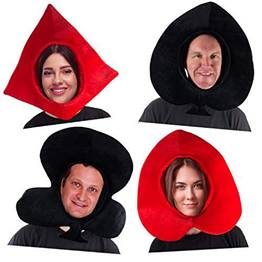 Playing Cards Costume Hats: Team up as many friends as you can to make a full deck. Are you the Queen of Hearts or the King of Clubs?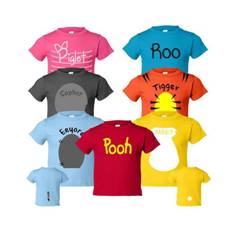 Pooh and Friends: Keep the Halloween party family-friendly. The Pooh character comes with costumes for every age.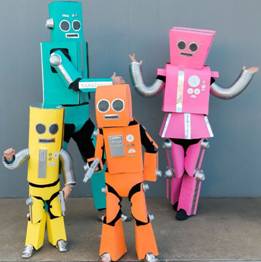 Robot Costumes: Get your robot voices ready! This is the best way to use all of your Amazon boxes.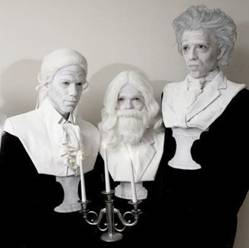 Composer Busts Costumes: Dress up as statues with your group of friends. You can opt for cool marble busts by famous composers like Bach and Beethoven.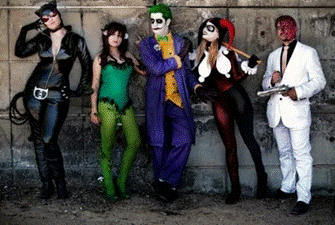 Batman Villains: With a list of hundred Batman villains you have plenty of options to choose from. This group costume can accommodate any large group. With so many options, you cannot go wrong!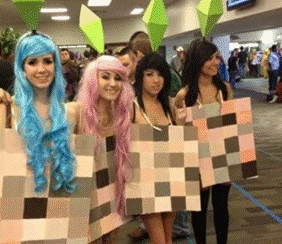 The Sims: This is another great idea for group size costume this Halloween! You can include an unlimited number of people in your group and don't forget the true sign of a Sim - 'the green diamond.'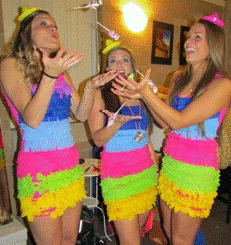 Pinata: This is a great Halloween group costume. Just grab some candy and you are ready to go. Bring along with a creative stick or bat to complete the look. This simple costume can go along with group of any size.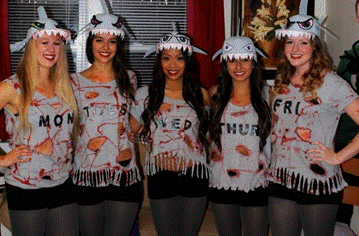 Shark Week: This group costume is either meant for a group of five or seven. The shark hats will make the costume, so make sure not to leave them at your home. This is an awesome costume idea for Halloween.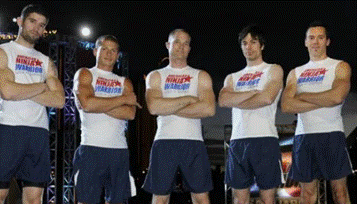 American Ninja Warriors: With the show extremely been popular lately, get dressed up as an American Ninja warrior this Halloween. Get as many friends as you want for this group Halloween costume.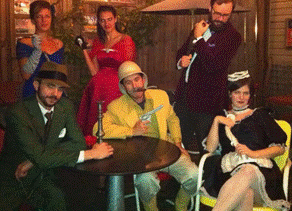 The Players from the Game of Clue: This group costume will work best with a group of six. Pick your favorite character and dress alike them. Don't forget your muder weapon!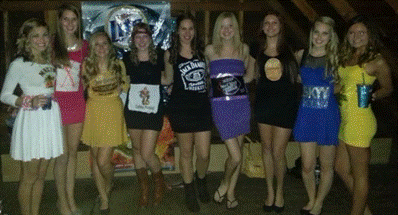 Liquor Cabinet: Everyone has their drink of choice, so why not dress up as yours? This group Halloween costume is fit for any number of people.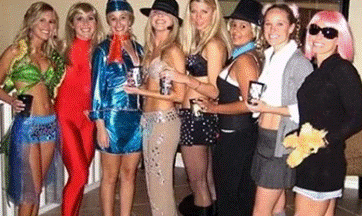 Britney Spears: Britney Spears has some of the amazing music video outfits. You and your friends gang can pick your favorite outfits and try them out yourself!.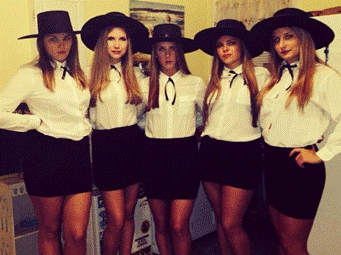 American Horror Story: The costume idea is great for a group of five, but you can make this work for a group of any size. It's an old school Halloween idea of being a witch, with a modern twist on the costume and new sense of style.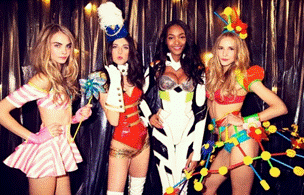 Victoria's Secret Fashion Show Models: The costume idea is great for any sized group. You can come up with your own crazy costume ideas that will keep you look sexy and classy.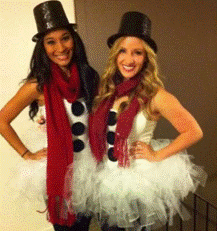 Snowmen: This costume idea is great for groups of two or more. Add some of your creative touches on it and make it your own. Don't forget to grab a what or scarf to complete the ensemble.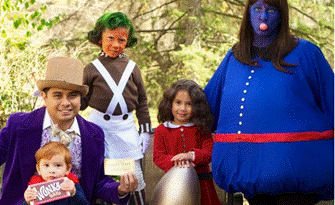 Charlie & the Chocolate Factory Costume: This is the perfect family Halloween costume. Pick your favorite character and dress up as them for the night. Th costume idea is ideal for large groups.
So what are you and your squad going to dress up as this year? Leave us your favorite movie and the costume you are inspired to try this Halloween! Comment below!
Also, don't forget to show us the impressive Halloween looks of you and your gang on our socials!
No Comments Submitted Yet On This Article