Details
Details
It has been often seen that the so called antagonist of a particular cinema or creative piece reach the height of popularity similar to the protagonist. This is simply because their appeal is far deeper than any other stereotypes. They have ideologies that appeal to the rational mind and make us fantasize about the extra-ordinary. Japanese anime has always been a favorite with a millions of fans worldwide. And Naruto is perhaps one of the greatest Japanese anime ever. But it became even more popular thanks to the antagonist group it features: The Akatsuki. Almost, every character of this anime is a wonderful creation of its own. They have their own back story, some fascinating, some tragic but all of them teach us something. This is why, according to a lot of fans, Naruto is not just an Anime, it's beyond that. Another great part is almost all the characters have great costume along with their incredible power. And when it comes to Halloween, these costumes can work wonders for you. The adult Akatsuki robe is one of those outfits that will surely amaze the guests of your party, Naruto fan or not alike. This robe is definitely one of the most unique costumes from the Naruto universe. It's simple yet it has that dark appeal which is characteristic of the whole group. They are dark and mysterious character and their robe symbolizes this perfectly. So, if you wish to portray this dark and shady side of yours this Halloween then we at HalloweenCostumeForKids have the perfect Akatsuki cosplay costume for you. Read on as I will be listing the details of the costume and also some background information of the notorious group. This will give you a heads up in case you have to encounter someone enquiring about the costume.


How to diy your Itachi costume yourself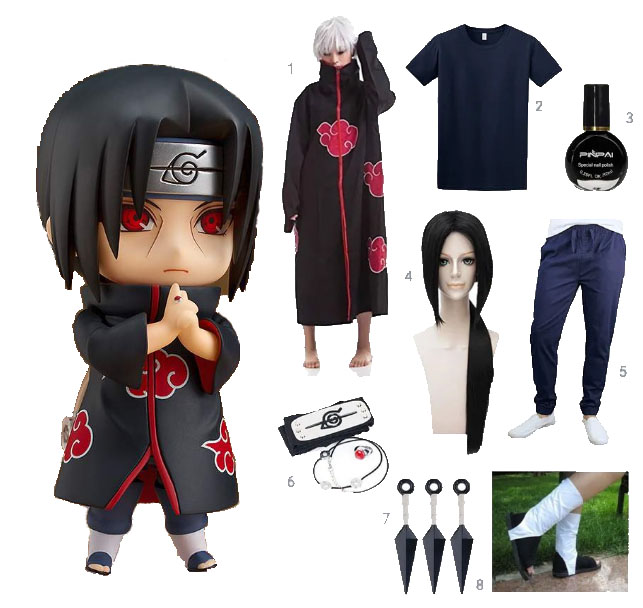 Akatsuki Cloak




Men's T-Shirt




Black Nail Polish




Anime Cosplay Wig




Twill Joggers




Itachi Accessories Set




Plastic Kunai Darts




Akatsuki Shoes
Adult Akatsuki Robe: This Halloween Become Greatest Anime Villain Ever!
If you have seen the episodes of Naruto then I am sure you are very well familiar with the group called Akatsuki. They are one of the most dangerous groups of ninjas who are motivated by the will to take control of the world and lead it to the way of peace. But the way they want to achieve this objective creates a friction with the protagonist Naruto and thus their path crosses with each other. Their name Akatsuki is actually a Japanese work which means dawn or new beginning. This is because of their objective to create a new world order. The group consists of all the top class assassins from various villages who have varied motivation leading to the same objective. Well, this is more or less their background information. Now, let's take a look at their costume.
The costume is actually a pitch-black robe which is made of polyester for extra comfort all day long. It also features the red cloud sign which is characteristic of the dress.
This crimson cloud is symbolic of the breaking of dawn.
The Akatsuki cosplay costume also features the matching foot-ware which almost resembles the one we can see in the actual Anime.
So what are you waiting for? Visit our website halloweencostumeforkids.com and explore our adult Akatsuki robe and other Naruto costume and enjoy this Halloween to the fullest!
Reviews
Tags
size chart