Details
Details
As we get further into October and temperatures begin to feel like fall, this only means one thing – Halloween is almost here! We spend weeks brainstorming the unique costumes and then buying the outfit we will wear on the big evening in the subsequent weeks. No matter how old you are, Halloween brings certain indescribable magic, and we're so glad that it's almost here.With the overwhelming popularity of Snow White and The Seven Dwarfs, it is no surprise that characters from the movie are the top Halloween costumes for girls this year. With so many diverse choices, you can bring out all the magic in a Snow White Princess dress.
How to diy your Snow White Costume yourself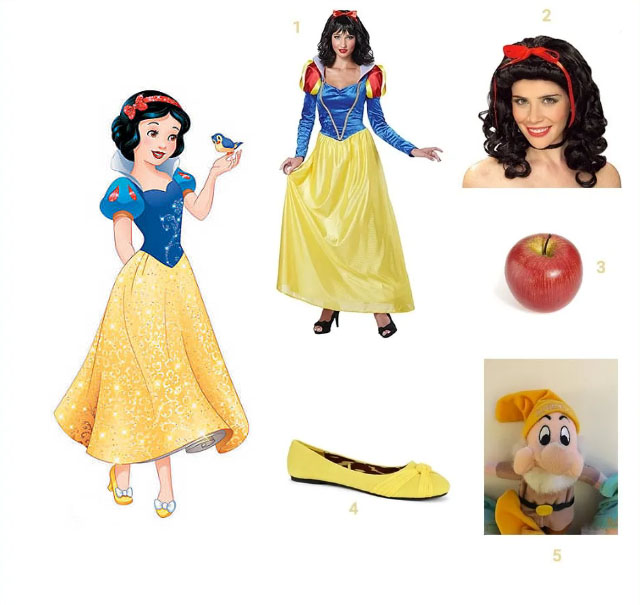 Snow White Costume

Girl Black Character Wig




Fake Red Apple




Yellow Ballet Flats




The Seven Dwarfs
Buy the Best 'Snow White' Halloween Costumes!
Do you wish for the perfect Halloween? Wearing a Snow White dress is a good place to start. So it's time now to open up the storybook and bring the original princess to life with a Snow White costume! Of course, there have been many different versions of this lovely tale. Do you want to be the striking Evil Queen by dressing up in our Snow White witch costumes? Or you want to show up in a sexy Snow White costume instead? Couple up with a Snow White prince costume to finish the story!
There is a variety of looks that may fit your sense of style even better like Snow White dresses with a modern flair, the classic style plus size Snow White costume, or a sexy Snow White costume for a more grown-up look.
Once you have picked up your perfect style from our splendid collection of costume and accessories, check out the tips and tricks to make your experience truly magical! With an iconic look of bright red lips, jet black hair, and a blue, yellow, red dress, Snow White costumes have become popular for this year Halloween. HalloweenCostumeForKids has costumes for babies, kids, women, and plus-size women so that anyone can transform into the sweet beauty.
We are different because you can get more creative and create a costume of your own design too! There is enough to dress up every dwarf in your squad if you really want to. Choose from wigs, gloves, headbands, slippers, wands, and more. Add a makeup palette, and you can completely change your look to the fairest Disney Princess.
How Our Snow White Halloween Costume Is Different?
The Snow White cosplay is made of 100% polyester and stretchable velvet fabric that feels comfortable against the skin. The upper portion of the dress constitutes of the royal blue bodice with puffed upper sleeves. And the lower part of the dress constitutes a full-length yellow-colored skirt. It has a back zipper for easy on and off. A red satin ribbon bow is sewn to a red fabric-covered plastic headband. Matching hair ribbon and red cape are available to complete the ensemble. The velvet imparts a smooth texture that feels soft-to-touch and adds flair of gorgeousness to the overall costume. Braid trimmings in metallic gold color add more glamour to the outfit. The dress features a stand-up collar that's attached using Velcro dots.
However, looking like a famous Disney princess takes a bit more effort than just slipping into a Snow White costume. It would be best if you do a bit of homework before putting on that dress as this will take your dress-up game to a whole new level.
Here we mention a handful of poses that will make your costume really shine. This will add that little something extra that will help you to pull off your look, which makes the difference between dressing up in a Snow White costume and becoming Snow White for the night.
Polite princess.
Swing your skirt.
Swing to your animal friends.
Take a bite.
Transfer Yourself into the Fairest Of Them All with Our Snow White Cosplay!
Our classic Snow White costume is made with attention to fine details for portraying the character visually in the best possible manner. Don't forget to add a Snow White Wig to spread your charm around.
Reviews
Tags
size chart