Details
Details
Being a superhero and possessing all the superheroic powers is one of the most common (and satisfying) daydreams there ever was. While we cannot say you will have superhero powers, when you dress in one of our superhero outfits, we do think you will look super and feel incredible. If you are thinking of unique superhero costume ideas, the Shazam costume for kids brings movie magic to Halloween! Your child can take on the mantle of Shazam with this Deluxe Shazam Halloween costume! The costume can take any kid's Halloween to a new level. Transform yourself into an adult superhero by shouting "Shazam!"


How to diy your Shazam Costume yourself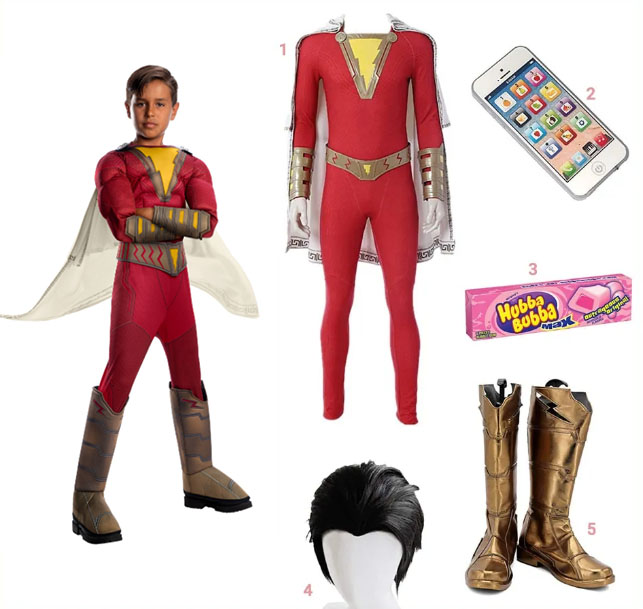 Shazam Costume




Toy iPhone




Bubble Gum




Slicked Back Wig




Shazam Boots
When it comes to choosing a superhero costume, it seems like there is an endless number of superheroes to choose from. You can choose to be the kind of hero who comes from another planet or the hero who had their mutant powers from birth, all our exclusive collection of Superhero outfits are sure to suit your tastes. Whether you're shopping for Halloween or needing a superhero outfit for Comic-Con, buy your Shazam cosplay for kids from HalloweenCostumeforKids. Visit halloweencostumeforkids.com and get the perfect Shazam suit for your kids. Below I am sharing the details of the product for your better understanding.
Exclusive Shazam Suit for Kids - HalloweenCostumeforKids
If your child dreams to bump into a powerful, mystical wizard who grants you some cosmic superpowers to use against the forces of evil, deluxe Shazam Halloween costume is just a click away. So it's time to suit up and save the world from Sivana in this amazing Shazam suit for kids! Below I am mentioning the details of the product for a successful purchase.
Item Details:
Jumpsuit
Attached boot covers
Hooded cape
Belt
Features:
The costume is made of 100% polyester fabric and fiberfill, 100% polyurethane foam.
The ensemble has hook and loop fastener strips at the center back.
The costume is officially licensed.
Jumpsuit has muscle padding in the chest and arms to give your child that muscled-up hero look from the film.
Red-colored jumpsuit has a bright yellow light lightning bolt on the center of the chest and printed texture details.
Foam gauntlets are attached to the sleeves, and the matching boot covers are there.
The belt is made out of foam and fits around the waist with a fastener in the back.
Finish off the look with an off-white colored hooded cape attached at the shoulders.
Foam boot tops have elastic straps under foot.
The golden waistband and boot covers would probably finish the look.
Review the size chart for additional information and place the order accordingly.
Velcro closure.
Hand wash the ensemble to make it sustain long.
This is a fantastic gift for all the Shazam fans there! The costume will make you look and feel getting struck by some awesome lightning! Your child can have a full superhero experience with this Halloween costume from HalloweenCostumeforKids.
Reviews
Tags
size chart